Importance of your web font
Published: 16 February 2015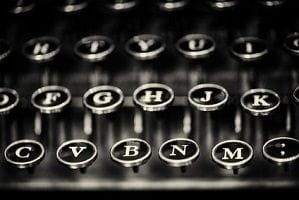 Put your best website forward with the perfect typography for your business.
Typography talks
When it comes to web design, many people think first and foremost about the colours, spacing and images they want to use. Whilst all parts of the design process are crucial and need to work in harmony, it's important not to forget the impact typography (font) has on the look and feel of your site.
Some designers believe that a website without a strong, consistent choice of fonts can never be great, regardless of its other winning features.
Frederick Goudy, the prolific American type designer, certainly saw the importance of the written word when he coined the phrase:
"Of all the achievements of the human mind, the birth of the alphabet is the most momentous".
There are a few rules to follow:
When it comes to print you can use almost any font you like, but with a website you're much more limited.
There are hundreds of different web browsers out there, which means what you see on your screen could look very different to what your customers see on their screens. Not all fonts will work across all computers, browsers and operating systems.
Picking a font-family is a good way to ensure that at least one of your desired fonts will be compatible on every browser. A piece of code can be added into the HTML section on the back-end of your website to tell each web browser which font it needs to display. A font family consists of several fonts (usually three) and works as a 'fall-back' system; if a web browser does not support the first font listed, it tries the next, repeating until a compatible font is found.
The safest fonts to use for web include: Arial/Helvetica, Times New Roman/Times and Courier New/Courier, however there are several other less commonly used fonts that will still work cross-platform.
How do I know which font to use?
Your website is the face of your business, so it's really important to get it right. Talk with an experienced graphic designer or web design company so that you can be certain your typography works with the overall design of your site and the objectives you are trying to achieve.
Did you know Snap offers complete web design packages? You can find out more about Snap web design here.
We'll leave you with a warning against one deadly sin:
For a five year old's birthday card it might be great, but for your business website we suggest leaving comic sans off the 'acceptable fonts' list.