How well do your digital designs translate to print?
Published: 2 November 2015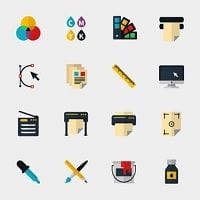 When you're busy creating the perfect design for your website, you must remember not everything that looks fabulous on screen translates well to print.
There are a number of factors to bear in mind when you're thinking about taking digital designs and incorporating them into your print media, including fickle colours, low-resolution images that distort when printed and designs that are simply too complicated.
Five tips to creating digital and print-happy designs
To ensure your images are as happy in the real world as they are on screen, we've collated a few top tips for creating print-worthy designs:
For a start, you need a good monitor. Without one, you're really guessing at how your design will look when printed.
On the same note, you need to know that your colour settings are as accurate as possible. You can try adjusting them manually by holding up a printed image to your monitor and tweaking your settings until they match, or by investing in technology such as a Datacolor Spyder.
You also need to pay close attention to how large your images are. Online, images often need to be resized so they're as small as possible. When printing, the opposite is true the larger the image, the higher the quality.
Online designs can also hide a multitude of issues, often because they are required to fit into very specific spaces and they usually have a very short shelf life. Print designs, on the other hand, are made to last and can't be tweaked once they've been released to the public, so they need to work from the get-go.
When you have digital designs you'd like to convert for print use, be sure to also leave or insert sufficient margins and bleeds or you might end up with parts of your design missing from your posters or flyers.
Need some help perfecting your web or print design? Contact your local Snap Centre.