How visual marketing can benefit small businesses
Published: 2 April 2013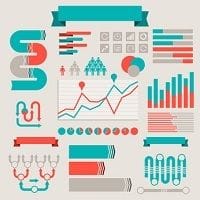 Do you use visual marketing in your business?
Visual marketing has been around for thousands of years, but since the advent of the internet it has gone into overdrive. Knowing how to take advantage of the current trends and ignore the techniques that no longer work can help put a business ahead of its competitors.
Images
Pictures have long been used to complement words and ideas, but in recent years they've been used more and more as marketing tools in their own right. Flickr led the way in 2004, but the more recent developments of Instagram and
Pinterest
have really pushed things forward. These sites offer businesses a unique way to target their audience, and because images are so easily shared they're great for social sites.
Infographics
One particular type of image that has exploded in popularity recently is the infographic. This tool is an easy way to spread information in bite size, beautified chunks. Almost any topic can be covered in an infographic, so long as you have stats, art and verifiable sources.
Videos
Videos are another great way to share information that can be easily digested. Sites such as YouTube and Vimeo let companies upload videos to share with clients. The best type of video depends greatly on the company, but 'how to', 'ask the expert' and 'behind the scenes' videos are often popular. If your company has TV ads then they can be uploaded as well, but it's best to keep your social channels more informative than self-promotional.
It's important that all your visual marketing work fits in with your overall branding and design. Contact Snap today for help with your branding and web presence.