How virtual and augmented reality are changing retailing forever
Published: 20 March 2017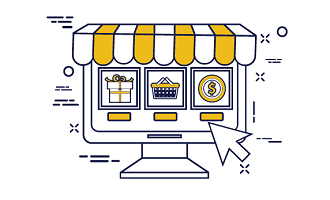 You thought buying online was shaking up the retail world? Imagine being able to deck out your house in furniture and appliances from a photo, or see exactly how makeup looks on your face without trying it on. These are just two examples of how virtual reality (VR) and augmented reality (AR) are taking shopping experiences to a whole new level - in store, on phones and from the comfort of home.
What exactly are VR and AR?
Virtual Reality
This is technology that recreates the real-world situations where you can react and interact. To experience VR you need a dedicated (and pricey) VR headset, Google Cardboard or one of the other low-cost, low-tech products that can transform smartphones into headsets.
Augmented Reality
Takes the physical and emotional buying experience to the next level by superimposing computer generated sensory inputs on top of the real world (Pokémon was an early example). From there customers can modify and customise products and services. AR is more like an app that can be downloaded to your Smartphone and other devices.
Report predicts shoppers will flock to VR and AR
While Pokémon hysteria may have died down, thirst for these new technologies only just getting quenched. According to the new report "Augmented Reality and Virtual Reality Market' there is huge expectations for both:
Global VR market will reach $33.90 Billion by 2022, growing 57.84% each year.
Global AR market is projected to hit 117.40 Billion by 2022, growing 75.72% each year.
How could retailers benefit from VR and AR?
Combining the best of the digital and physical worlds opens up many opportunities for all kinds of retail goods and services from household items, clothes, health and games, to travel, learning and sporting experiences by:
making shopping 100% personalised experiences
involving customers in product design and prototyping
transforming front-line employees into specialised brand ambassadors and product experts
providing exceptional, "in person" customer service from anywhere in the world
interacting with customers through the entire sales journey from anywhere in the world
How can customers benefit?
Whether it's online or in-store, there are many ways that shopping will become a more pleasurable, personal and productive experience through:
seeing, trying on or trying out items from a digital product catalogue and smart shelves
being able to make faster, informed decisions
getting real-time feedback from friends and other trusted sources to make the right decision
discovering new and preferred ways to shop whenever they browse or buy
Examples of VR and AR in retail
Many retailers are already trialling VR and AR technology to boost customer experiences such as:
IKEA
14% of IKEA customers take home furniture that's the wrong size for its intended location. The furniture giant is solving that problem with AR technology that allows people to try out select products in their homes with a blend of printed catalogue, mobile app and smartphone or tablet.
Lego
To boost instore excitement and sales, products can be positioned in front of the AR enabled screen that projects a digital version of the toy inside. Children get to see what the model can do while parents pull out their wallets.
L'Oreal
Their facial recognition Makeup Genius app allows customers to virtually apply products and see how they look before buying the product.
Broadway Sydney
Mirvac has created a 'Mix it Up' app for people to explore new and exciting things happening behind the scenes in the redevelopment. It also gives a glimpse of what's in store for the future.
New Balance
Virtual change rooms allow shoppers to try on new range via interactive screen, without actually changing.
How to prepare for the VR and AR revolution
While it's not taken off in Australia just yet, there's little doubt that VR and AR will dramatically impact retail business and customer's shopping habits.
Take some small steps now so that you're ready when cost-effective technology becomes available to small retailers. For example:
try out VR headsets, 360° cameras, immersive video and other new technologies
imagine what the shopping experience could be like for your customers
identify customer touch points (in-store and online) where VR and AR could be effective
talk to some VR and AR companies to find out what's possible
keep abreast of new developments through newsletter and websites.
In-store retailing is changing fast. Understanding the opportunities available for SMEs through technologies like VR and AR will help keep you in front of the crowd, while others fall behind.