How to write email campaigns that get opened, read and actioned
Published: 9 August 2016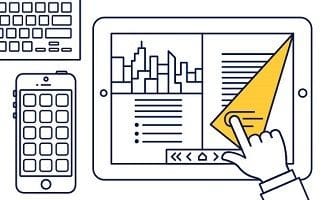 Ever wonder why your email marketing isn't getting the great response you hear people talking about?
Email marketing is still an extremely effective way to increase sales, drive website traffic and generate leads. However, so many business owners struggle to get their emails opened, read and actioned on.
The good news is that there are simple strategies you can use to boost your success rate on all three - starting with your very next email campaign.
How do you grab and hold attention? It's a two part strategy.
Grab attention with your subject line
In an overflowing inbox, you have less than a second to make an impression on a glancing reader.
Whether they give an email a chance, or toss it in the e-trash, comes down to two things, a) who the email is from, and b) the subject line.
You can't do a lot about the first part - at that moment, they either want you or they don't. But you can certainly do things to inspire and intrigue them with your subject line.
Here are a few subject line tactics to test with your audience:
Keep them short - less than 50 characters makes for easy scanning.
Include verbs - action language, such as take, save, download, buy, earn and don't miss the opportunity encourage people to do something and suggest there's a benefit.
Make it personal - include their name, if you have it. If not, highlight something else you know about them that relates to the content e.g. dog lovers, families, first home buyers, etc.
Be clear before quirky - while a fun or unusual subject line can capture attention e.g. 'Whoa, have you seen this?', it may not be enough to get a click. Email service, Mailchimp, analysed 40 million emails and found the ones with the highest opening rates told instead of sold e.g. Acme's Spring Wardrobe Sale. So it's important your reader understands the benefit of clicking.
Align the subject line with the content - getting a reader to open your email is just the start. If your subject line matches the email message, they'll read on. If it's not relevant - or under delivers - they'll banish you to the e-trash.
Which brings us to the other crucial part of your email. Inside.
Engage and excite with your email copy
Once someone makes the decision to open your email, you must quickly and continually hold their interest:
Be relevant - start by reconfirming your subject line with a strong headline or opening paragraph. Explain that you're here offering something useful and helpful to develop a connection between you and the reader. For example a discount/sale, exclusive information/tips, easy subscription renewal, etc.
Write like it's a conversation - talk to your audience using pronouns such as you, your, we, I, our. Make the message feel like you're sitting in front of them having a chat.
Highlight the benefits - you want to tell your reader what you offer, but it's important to paint a picture of how your offer will help them in life e.g. save them time/money/effort, make them look/feel better, etc.
Keep it short - people get turned off by long emails. They seem such an effort to read. So keep things succinct, use bulletpoints and subheads, avoid jargon and link to web pages or landing pages for more information, if needed.
Include a call to action - you can create the greatest email in the world, but if you don't tell people what to do once they've finished reading, it's a waste. Include one call to action e.g. buy now, download your guide, click here, call us today, etc. Make it stand out from the rest of the email using coloured buttons and bigger fonts.
You can always talk to us here at Snap if you need help creating email campaigns, designs or content that get noticed, clicked, read - and boost results.