How to transform office meetings from boring to enthralling
Published: 13 August 2018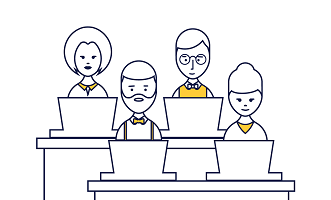 We've all been therethe office meeting that drags on. Filled with yawns, window gazing, grandpa nod offs and Ferris Beulleresque pleas from the host for "Anyone, anyone?" to have some input.
Meetings should be a time that people in the office look forward to attending and contributing to.
Unfortunately, they've earned a bad rap over the decades because most people have never been shown how to make them interesting. And with attention snaps dwindling, it's only getting more difficult by the day to hold a meeting crowd.
So here are five ways to inject some fascination and fun into your meetings to get the best out of the people who attend.
Take the meeting by the horns
To gain respect and hold interest, don't just call a meeting, learn to be a master facilitator so that you keep the session running smoothly.
A great facilitator is where a great meeting begins, so:
Start and finish on time
Stick to the agenda
Set clear goals
Stay on topic
Listen
Mix it up
Be inclusive
Even consider asking people to turn off their phones. Make it a group decision and ask everyone to put their phones in a container on the table.
Get input from the group
Before the meeting, ask attendees for input into the agenda with the provision of guidelines.
Inclusivity breeds teamwork and teamwork breeds enthusiasm. They will be invested before they even walk in the door because they have had the opportunity to be involved.
Create a culture of participation
Be aware of different personality types and manage them accordingly. Encourage introverts as well as extroverts and employ a no domination policy.
There's nothing worse than one person hijacking the agenda it's boring for everyone and can undermine the meeting.
Ask your team to share something:
their co-workers recently achieved.
positive about the person sitting next to them.
Brainstorm and record ideas in break-out groups.
Ask specific people to lead a discussion on their topic of expertise. You can use a roster to ensure everyone gets a turn.
Allocate tasks:
A person to take notes.
Someone to run the AV equipment.
Someone to write on the whiteboard.
Send a summary of the meeting to all attendees with an 'actions, by and date' addendum. This will add gravitas to the meeting and make people accountable.
The psychology of being included by participating makes people feel part of a team and will only bring positive results.
Listen to your team
We all know how good it feels to be heard and acknowledged.
A study by Glassdoor, shows more than 80% of employees are motivated by appreciation and listening fosters just that.
So use eye contact and reflect back what you hear. Not only will your team be appreciative but the entire group will receive clarification and learning.
And never be dismissive, even if something is off topic. Be positive, reflect and move forward with the agenda.
Listening is a profound motivator and will build a respectful culture within your meetings.
Try unusual venues
A change the scenery is a great way to keep things interesting. So dump the traditional meeting room and try somewhere different. How about a local café or park?
Where you hold your meetings can dampen or raise spirits. Switching the setting will promote focus and improve enthusiasm and creativity.
Designing and running an inspired meeting is worthwhile for you, your team and your business. If your meetings are designed to bring out the best in attendees, it will bring out the best in you.
And that leads to more productive, appreciative, engaged and motivated staff who can't wait until your next meeting.