How to raise your prices without scaring off good clients
Published: 31 August 2016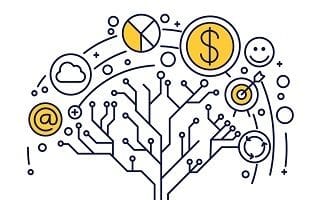 There may not be such thing as a free lunch.
However if you wander around any shopping mall or strip you'll find no shortage of the next best thing - be it a sale, 2 for 1, further 25% off already discounted marked prices or host of other price slashing promotions.
Yes, we live in a "% Off!" world.
This is why so many business owners have sleepless nights about the idea of raising prices even though it often makes much better sense than using 'cheap' as strategy.
Shift the focus from sales to profit margin
It's easy to imagine that the more clients you have, the better it is for your business. This is not always true. More clients usually mean more work and expenses (staff, materials, etc).
So if you gain more clients because your prices are lower, it's the law of diminishing returns. In other words, less gain (profit) for more pain (investment).

And the opposite can happen when you increase prices.
Of course, if you raise prices there's no guarantee you won't lose some clients. Chances are you will. The key is finding that right balance.
For example, how a florist's profits could blossom
A florist sells bunches of tulips for $15 to 50 customers a week:
They buy the tulips from the grower for $10.
This means they make $5 on each of the 50 bunches of flowers for a total profit of $250.
Then they decide to increase the price to $18 a bunch:
A few people don't like the increase, so they now have 45 customers a week.
The florist now makes $8 on each of the 45 bunches for a total profit of $360.
That's a 45% increase in profit every week for doing less work.
Here are four strategic ways to up your prices without losing profits, loyal customers or sleep.
Test your market
From the example above you can see that it's crucial to find your perfect price point. Increase too much and you could lose both clients and profits.
What is the ideal price? There's no one size fits all answer. Test the market with a small increase to see the impact on sales and profit. If there's an initial setback, try to hold your nerve. It's best to evaluate results over a few months before you raise or lower the price again.
Highlight the benefits
If you do increase prices, you'll need to shift attention to benefits of the product or service you're selling or providing. Explain how it helps the customer in their life, or solves their pressing problems
.
In the case of the tulips you could talk about their picked-today freshness and beautiful smell and that as a gift they say congratulations, thank you, I love you or I'm thinking of you in a way that will be greatly appreciated.

And don't apologise about price rises. This can undermine the value of your product or service and make customers apprehensive.

Phase the price rise in

Depending on your business, you could test a higher rate with new clients. The feedback they provide and action they take can help in phasing the price raise.

You can let the existing clients know in advance that you will be raising prices soon. This can jumpstart short-term sales from those wanting to save. You could even offer them the old rate anytime in the next 3 months if they put a deposit down now.

Add value with a bundled offer

A smart way to increase the prices is to offer an additional service over and above the usual services and price the bundle at a higher rate. We see telcos doing this all the time with deals such as mobile + internet + landline packages.

A florist could bundle up packages that include things like a pot plant with a bunch of flower, indoor gardening guidebook, floral arrangement DVD, clippers, a card etc.
While the idea of price rises can feel stressful, remember that there's nothing wrong with making a profit. In fact, your best customers hope you do or they know you won't be around to help them.

Using these tactics can help you implement those price rises smoothly, keep goodwill amongst the right clients and boost your profit margin (for less effort).