How to make LinkedIn work harder for your business
Published: 17 July 2014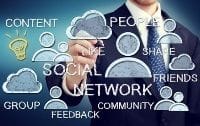 Too many of us are letting our LinkedIn pages sit idly without unleashing their potential.
Far more than just Facebook with a suit, LinkedIn has the potential to help you overcome business challenges with ease. Follow these six tips to start making LinkedIn really work for your business.
1. Post content
Recent changes to LinkedIn have allowed for business pages to post content online without those pesky character restrictions meaning you can essentially blog through the social network. Make use of this to stay at the top of your follower's minds and position your business as an expert in your field.
2. Ask for recommendations
A business recommendation on LinkedIn has the potential to capture someone who has never heard of you, or convince someone who is considering you. Plus, it actually makes the process of asking for testimonials a whole lot easier.
3. Start a group
Position your business as a thought leader in your field and aggregate your target audience by creating a LinkedIn group, building an audience and keeping it active.
4. Post job openings
LinkedIn is far more likely to attract a candidate who has an active interest in your business, rather than a candidate who just happens to be looking for a job and matches the skill set required.
5. Get employees involved
Actively encourage employees to be more involved with LinkedIn generally to extend your reach, grow your network and put your people at the forefront of your business.
6. Use Sponsored Updates
Sponsored Updates allow you to reach a very precise target audience who are receptive to your business messages. Enough said!
Visit your local Snap Centre for all your design and printing needs.