How to ensure your website gets traffic - and keeps it
Published: 5 January 2018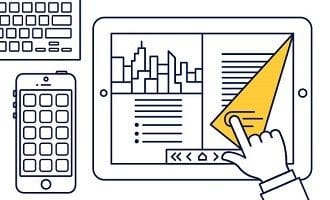 If your website doesn't instantly attract, connect with and interest visitors, it doesn't matter how good the Google ads, social posts and other marketing content designed to pull them in might be.
Research by the Nielsen Norman Group found that 'to gain several minutes of user attention, you must clearly communicate your value proposition within 10 seconds.'
In other words, it needs to answer their question, "What are you offering, how is it unique and why should I care?"
To encourage website viewers to stick around long enough to browse your offerings, you need to:
put yourself in their shoes to understand and improve their experience
review and renew your content regularly to keep it fresh and relevant
ensure your call to action (what you want them to do) is obvious and worth their while.
The longer visitors stay on your site, the more engaged they'll be, and the higher the chance of conversion.
3 basic principles for an engaging website
First impressions matter, and the best first impression is a website that's clear, concise and easy to use.
Usability be easy to use
The quality of a person's experience when they're using your website has a huge impact on whether they stay, how long they stay and if they come back. If it's difficult to use, or just plain frustrating, they'll leave.
The path that visitors trek to find out about a service, buy a product or get an answer to a question has to be efficient and logical.
Content quality be interesting and easy to read
Competing with other websites for the same audience means that your content must be distinctive, on-point and well written.

But with viewers, on average, only reading 28% of a page, you'll need to get their attention while they scroll. So use:
engaging sub-headings that pique curiosity
short paragraphs that break content up
bulleted lists that stand out from the rest of the text
font sizes that are easy to read.
It's also important to vary the style of your content. Add interest and encourage interplay with video, illustration, infographics and memes.
Clarity be clear about what you offer and what they should do
The core function of your business - what you're offering and how it helps your audience - is the most important information. It should be easy to find at the top of your pages. It might be the headline and opening text on your homepage or product page, a blog article, a sales page, a contact us page.
'What to do next' (how to get what you're offering) must be clear. A great call-to-action will make your products irresistible, enticing people to click. Chose words that invoke emotion or enthusiasm, and give your audience a reason or incentive for taking the desired action.
You'll also want to make your CTA stand out with a contrasting coloured button or text.
How to get Google to love your web content
Impressive web content can only make an impact if people see it. Google search is a powerful and cost-effective way to attract people who don't know about your business, but want what you've got.

Using the latest strategies can get your name in lights on the search results.
Stay up-to-date with Google's ranking mechanism
The Google algorithm decides how visible your website is in search engine result. So it plays an important role in directing traffic to your site.
Google is constantly changing how it ranks websites, meaning you need to:
keep analysing your website performance (via Google Analytics) to make comparisons
stay up-to-date with major updates to the Google algorithm so you can respond quickly.
As the online marketplace continues to develop, Google penalises those who do not make the grade. Here are some of the reasons your website might be lowly ranked:
Poorly written and/or duplicate content
Substandard responsiveness
Unsatisfactory user experience
Not mobile-ready
Low-quality links (from other websites)
Overuse of keywords
Search Engine Optimisation (SEO)
Understanding how your audience searches online, and including the words and phrases within your online content, helps to boost your ranking with Google.
Keyword search tools allow you to find the most popular words used in searches relevant to your business, as well as look at trends over time. Include these words and phrases in your headlines, sub-headings, body copy and code to get Google's attention.

For more information on the latest Google ranking tactics, see our article SEO for SMEs
What to check if traffic drops away
If your website traffic has decreased significantly over time, it may be because you have inadvertently upset Google.
Here's some of the reasons why Google might have fallen out of love with your website:
Your site isn't mobile-friendly
You launched a new website, resulting in a loss of rankings at least temporarily
You succumbed to a scheme for hundreds of low cost links, which is considered spamming
You've lost some high-quality links (from websites that have been removed)
You're hosting company isn't providing fast page loading for your website visitors
You've missed a Google algorithm update and are now non-compliant
A security problem has been detected (with malware or spam)
A manual penalty has been applied due to possible keyword stuffing or unnatural incoming links
Consider the competition
Another factor to consider when web traffic drops away is your competition. A larger number of competing websites with quality content and good digit marketing techniques may be reflected in your number of visitors.
The remedy? Fresh, relevant, quality content, and a website that's optimised for search engines.

If you need help redesigning or upgrading your website so it attracts visitors and business in 2018, talk to your local Snap Centre experts.