How to create irresistible business brochures and flyers
Published: 27 March 2017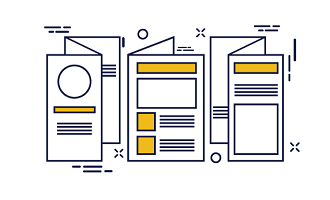 Well planned and designed brochures and flyers can be two of the best performing members of your sales team. Whether it's to promote products, advertise events or tempt customers with special deals and discounts.
Plus, the relatively low cost of printing brochures and flyers when compared to many other marketing avenues, means they often quickly cover their wage many times over.
So what makes a brochure a promotions, sales and marketing star?
Here are a few tips from Snap's printing experts to ensure your brochure and flyer team are looking and sounding their best when they introduce themselves to your potential customer.
Define and understand the people your brochures are for
Ask yourself some important questions:
Who is our target audience? Get specific.
Why would they want to know about/buy this product or service?
What's the biggest benefit we need to get across?
What is their most important problem that we need to tell them we can solve?
If you don't know the answers, ask your sales and customer service people who talk to them every day - and ask some of your trusted customers for their thoughts.
Lead with a headline that stops readers in their tracks
A powerful headline will often determine if the rest of your brochure gets a second glance or not. So unleash your inner copywriter and use a headline that will instantly let people know:
who the brochure is aimed at (not like 'housewives between 40 - 45', but an audience that share a problem or need)
what you're offering (a solution - be it a product, service or information)
why they should care (a benefit, reason for a busy person to click, call, read on)
For example, the headline at the top of this article suggests that the main audience is people who want better results from brochures. 'How to' tells them that by reading the tips (what we're offering) they will learn ways to create brochures that bring them more customers and sales (benefit).
Of course, a headline is only as good as its audience. This headline will only be of interest to people who care about doing better business through brochures.
Someone who only markets through their website wouldn't care as much (a few may be curious). Instead, we'd try to get their attention with something like 10 website traits that could be losing you rankings and bsuiness right now.
Make your brochure or flyer stand out visually
You've got a couple of seconds to get noticed and make a first impression. So ensure your design stands out with a:
Eye-catching, appealing cover (hint: not a shot of your office)
Captivating headline - already discussed
Easy-to-read font
Colours that are consistent with your brand
Enough white space that makes the content easy to read
Draw them in with benefits
Sell, don't tell. In other words, don't start the conversation talking about what you do. Paint a picture of how you help your audience solve their problems, make their life better, etc. Be clear why your business/product/service is different to, and better than, your competitors.
Use bullet points to highlight key features
Headlines grab attention with benefits e.g. instead of 'Practical, adaptable all-in-one printer' say 'Save money and office-space with this all-in-one printer'. Once you have the reader's attention, let them skim over descriptive features in bullet form.
So for an all-in-one printer it might be:
One touch print, scan copy, fax
Scan to email
Wireless direct printing
Automatic document feeder
Then lead them towards the action you want them to take next.
Include key information on your business
You do have to talk about you at some point especially if your audience aren't familiar with your business. Include standard information, such as:
Company name and contact information
Your logo and tagline
Images of your product or service
Proof e.g. testimonials
Where to find you on social media
Choose your paper and finish wisely
The quality of paper you use impacts the impression your brochure or flyer make. If you want people to think of your business or product as high quality or luxurious, you should use a paper stock and finish that reflects this. If you are a budget business, or want people to feel your prices are lower, you may want to use a cheaper stock.
There are some amazing looking finishes available these days too - from shinny-finish Scodix to raised Gold and Silver to Spot UV and more. So explore affordable opportunities to wow clients from their first glance and feel.
Make it easy for people to act
Once they've swooned over your brochure design and words, be sure to tell readers what they should do next - call today, visit your store, act now or log on to your website. Use active language and make sure the right contact or address details are all there.
Give almost-customers an incentive to act now
When we are busy it's easy to leave something until another day. So create a fear of missing out if people don't act immediately by including something like a:
limited time only special deal
free trail
discount
exclusive cut-out coupon.
Following these tips will help you create brochures that capture your target audience's attention, hold their interest and prompt them to get in touch.
The best part? You don't even have to be a pro designer, writer or marketer to dramatically boost your results. Your local Snap Centre brochure designer can plan, design, create and print your entire brochure or flyer for you.