How to create Facebook ads that get clicks and conversions
Published: 29 March 2017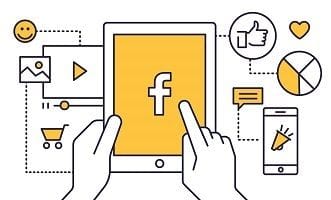 If you're like most business owners testing Facebook ads, there's a good chance you're pulling your hair out over the lack of engagement and conversions you're seeing - and stressed out about how much those poor results are costing you.
And yet, you keep hearing experts gushing over how powerful Facebook ads are for business.
Here's the truth. Running successful Facebook ads isn't a click in the park. In other words, you can't just put an ad up and expect customers to bang down your door. You need to put some thought and planning in upfront.
8 tips for better performing Facebook ads
Here are 8 ways to get more of the right people looking at and acting on your Facebook ads.
1. Target warm audiences
These are people who are already familiar with your brand, product or service. This might be because they've previously seen your Facebook page or different ad, visited your website, read your blog, subscribed to your newsletter, or downloaded an eBook or white paper, among others.
By doing this, your ads don't have to work as hard convincing people who have never seen or heard of you before. Warm audiences are more likely to take the next step. So you save money and increase your return on investment.
A few ways to build a warm audience by include:
leading cold audiences to a helpful blog post (not a selling one)
creating brand awareness through a free takeaway campaign
offering eBooks, tips and insights in exchange for people's emails
2. Pay attention to your images
Think about how people use Facebook. How you use Facebook. When people are scrolling it takes something special to grab their attention. Attractive, interesting images can help you do this.
If the images grab attention, there's a higher chance people will read your copy as well. Here are a few things to keep in mind:
Use high contrast levels
Make sure the subject can be quickly understood
Include people where possible, as long as they make sense and add to the visual
A study found older people like blue, purple, and green, while younger people prefer yellow, red, and orange
3. Brainstorm 10 or more headlines
Great headlines rarely come out first go. That's why most professional copywriters start working on their headlines by writing down a long list of possibilities.
Some are great. Others are laughable. But it helps get the creative juices flowing and you'll often find several in your list that can be tweaked into powerful show stopping headlines (sometimes from the ones seemingly ridiculous original).
70% of people never read beyond the headline of a Facebook post before commenting and sharing so make it count.
Keep it brief and clear
Test numbers as they catch eyes
Emphasise how you benefit the reader
Test including a call-to-action
Test asking a question
4. Experiment with video ads
Videos are still novel on Facebook so they grab attention, get watched and boost likes and shares dramatically. This is why so many leading brands have used video ads on social media e.g. Red Bull, Coca-Cola, and Nike and have had great success.
But you don't need a Hollywood budget to create a video ad. An iPhone with a stabiliser is often enough.
Video ads have the lowest cost-per-click, with an average CPC of $0.18
Add captions to videos as most people watch the Facebook ad videos without sound
Captioned video ads have an average increased viewing time of 12%
You can use the Facebook Live feature to broadcast in real-time. Audience response can be tracked using this feature
5. Use stories that are relatable
People love stories they can see themselves in - or where they feel a connection with the person or subject. This creates an emotional attachment - one of the most powerful sales tools any business can have.
Have a hero of your story (person, product, service)
Use a multi-frame carousel ad using infographics or even your top blog entries
List the benefits of your product/service in ad images
Show progress resulting from your product/service
6. Use descriptive Call-to-Actions
A good call-to-action makes the journey from your ad to your webpage (landing page) a lot smoother. If you tell them what to do on your ad they won't have to spend time trying to work out what to do when they get to the page. And since they've been prepped they'll be ready to act.
Start with a verb - Get, buy, download, learn, etc.
Add some urgency - 20% discount expires this Friday
Offer something free - gift card, download eBook, sample product
7. Match your landing pages to your Facebook ad
People want it easy online. If they take the chance to click from the comfort and safety of Facebook to your page, they expect to it to be a smooth ride to the treasure (whatever it is that you are offering). If the ad looks and reads very differently to the page, people are more likely to click back out.
Make the images fairly similar
Use similar headlines
Make the same call to action easy to find
If you have different ads, create separate landing pages for each of them
8. Test your ad to see what performs best
We can give you all the best-practice results and tips in the world. However, the fact is, every business and audience is different. So you need to test what works best with your audience. And the sub-audiences that make up your whole audience. This means testing different:
images
headlines
body copy
calls to action.
You can do A/B testing (sending different ads to part of the audience at the same time to see which works best). But only test one change at a time i.e. just the headline, or just the image.
Need some help with your Facebook ad design and strategy? Talk to your local Snap Centre today.