How to create a logo
Published: 7 September 2012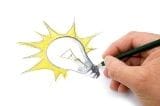 Best first impression
Deliver the best first impression with a professionally designed logo to establish your brand identity and boost awareness of your business.
Why is a logo so important?
A business logo represents your name, brand values, offering and character. It must capture all of the above in order to communicate the correct message and attract the right business.
What logo variations are available?
Font-led: Where your business name forms the main part of your logo. For example, Microsoft. If you're a business startup, a font-led logo could increase awareness of your business.
Image-led: Where the visual logo represents your offering literally. For example, if a lighting company's logo was a stylised lamp. If your name doesn't clearly call out your offering, this could be a more beneficial option.
Abstract: This is where a graphic element is used to create a unique brand identity, such as the Apple logo. An apple doesn't scream "computers", but it has created an immediately recognisable link between Apple and technology.
Tips for effective logos
1. Assess your brand awareness levels and choose a logo type accordingly.
2. Keep your logo clean and uncluttered. A busy logo will be hard to remember and more costly to reproduce.
3. Ensure your logo is differentiated from your competition.
4. Consider your business personality: trendy or traditional?
5. Hire a professional graphic designer.
Contact Snap to find out how your business can benefit from a beautiful logo or ask your local Snap Centre about completing one of our brand identity workshops.