How to choose a homepage hero image that connects and boosts business
Published: 3 April 2017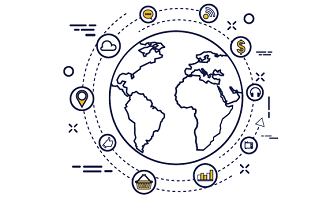 Like the hero in a story, your hero image is the star of your homepage (or at least co-star with your captivating headline). Why? Because it's usually the first thing people notice once they click to open the cyber door to your website.
So it needs to make a great first impression if you want visitors to stick around, get to know you and become customers.
What super powers do hero images possess?
Hero images need to be more than just pretty or chiselled faces. They have long job descriptions and everything living on a website (words, products, services, other images and more) is counting on the hero (no pressure!).
For example, they:
help put first time site visitors at ease by assuring them they are in the right place
are a powerful ally for the messages over and around the image
reinforce the big benefit you offer quickly
keep impatient web audiences on your site longer (as we process image messages 60,000 times faster than words)
point potential customers in the right direction (sign up, contact you, dig further, etc.)
Choosing the right hero image is art + science
When trying to choose a hero image that can flex its powers, you first need to consider:
Is the image relevant to your business?
Is the content of the image clear and understandable?
Is it too distracting (hides or takes too much focus away from the messages)?
If you're using a carousel (slideshow), are the images moving too fast?
Then you need to think about:
Connecting with your audience
The audience should be able to instantly relate to what they see in the image. And feel an emotional connection (depending on your goal that might be happiness, sadness, relief, frustration, excitement, etc.).
You can do this by showing someone in the image who they can relate to, a situation they can see themselves in, or place they want to be with your help, like the Honor homepage image.
Using appropriate colours
This includes using colours that reflect your brand and industry and contrasting and combining colours well to create an eye-catching (and eye-pleasing too) visual.
Choosing high quality images
Screens on computers, tablets and phones are so big and crisp these days that it will immediately show if you're using blurry, low-resolution images. It's best to start high and reduce your resolution if need be. The other way around risks looking cheap and nasty.
Plus, from a purely shallow 'looks count' perspective, people are more attracted to businesses with attractive homepages - and think less of those that are so easy on the eye.
Backing up your headline
As a big, bold image, it's easy for heroes to outshine words that sit on top of them. So while your hero shot should be strong and appealing enough to grab and hold attention, it needs to work in tandem with your power-packed headline to convey your value statement (and assure people they are on the right website to get what they're looking for).
It's about teamwork. Think Batman and Robin, Thelma and Louise, fish and chips.
Also, when choosing your hero image, consider where the headline might sit inside it. If you haven't already created the headline, write out something rough so you can test how it might look.
Directing where people look
Studies indicate humans naturally follow the gaze of other humans. If you have a Call To Action at the top of your page over the hero image that you want people to look at (a join box, Learn More button, action headline) you could test a photo of someone looking at it. It's guaranteed to draw your visitor's eyes in the same direction.
Showing your product or service in action
They say a picture is worth 1000 words, so you can do a lot of convincing in a small space with the right image. Showing your product or service in action is a great way to quickly build curiosity about what you selling, or even convince people to buy. The hero images on sites such as Squareup and Lululemon are excellent examples.
Hero images are a super important part of your homepage - and ultimately, your brand and sales funnel. Take some time choosing one that will not just look good, but be part of your value statement make people feel at home and encourage them to explore further.
If you need some professional graphic design help, your local Snap centre can work with you to find the right hero image and create a high converting website for your business.