How to build your brand
Published: 13 February 2017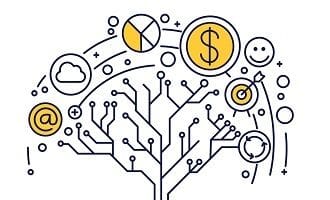 Creating a new brand? Here's what you need to think about
Branding isn't just for big business. Whether you run a small business selling computer parts, financial services or gardening tools, your business needs a strong brand identity too. Here's why.
Powerful branding makes you visible and desirable
A strong brand is the heart and core of just about every successful business. When it's doing its job, customers see it in the elements of your logo, business cards and promotions, leaveing them with a lasting impression they want more of.
But how do you get there?
Maria from The Sound of Music said it best when she warbled, "Let's start at the very beginning. A very good place to start."
An apt brand name
It all begins here. Like with a newborn, the name you give your business, product or service immediately creates an impression that will stick for life (or until it's changed). So choose something that embodies your business philosophy and clearly stands out in your space.
The market should be able to instinctively relate to your business, product or service from the brand name. Try to make it easy enough to say, remember and know what it's about, yet unique enough to avoid confusion with others.
For example, a name like TripAdvisor says exactly what it's all about. While AirBnB is clear, but still quirky enough to stand out and make people curious.
While Google is certainly a successful brand, unless you've come up with a world-changing idea, it's probably best to leave ambiguous names and made up words alone.
A striking logo
Your logo is an important face of your business - a motif and an avatar for your brand. So it needs to be easy to understand at a glance while conveying your core brand message. The best logos are those that have top of mind recall for the brands they stand for. Think of how we instantly recognize Ferrari's prancing black horse or Nike's swoosh logo.
Consistent design and colours
Visual styling is another calling card of your brand. Customers, old and new, identify with your brand quickly if they can relate to the style of your offering.
There are various components of visual styling that your brand can embody and leave an impression in the minds of your target market.
For instance, adopting a colour or colour mix based on market research for your specific product or service can help your customers associate your brand across channels.
Similarly, a consistent font and writing style can make people feel at home and recognise you. Think of how quickly you could recognise famous brands like Amazon, Fed Ex, Lego and McDonalds from their fonts and brand colours, without even seeing their name.
Clarity and focused
A clear brand strategy helps you stay on your mission and vision as an organisation. It also puts people at ease, because they know exactly what to expect each and every time they experience your brand.
When you are clear on what your brand is and what it can deliver, it's easier for your SME to build the same sort of loyalty that may have only ever thought was reserved for big businesses with equally big marketing budgets.
Like some help bringing your unique brand to life?
Your local Snap expert can help with everything from creating your initial brand strategy to the visual identity elements - and getting it out to the people who need to know about you.