How a loyalty program can boost return business and sales
Published: 11 January 2018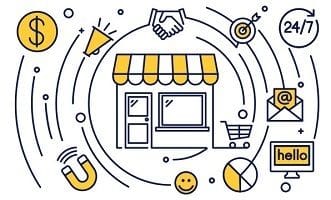 As a small business, there are good reasons to spend time focusing on the needs of existing customers ahead of attracting new ones. Learn why this audience is a goldmine for new business and how you can earn and retain their loyalty.
Why existing customers are your land of milk and honey
In every industry, it's cheaper to sell to existing customers than acquire new ones reportedly, an average seven times less.

Why? Because the people who already do business with you know your company, your products or services, and how you operate. Not only have they bought from you, they're already sold on you.

In other words, you don't need to change their habit, you just need to encourage them to keep the same one.

Here are some of the reasons why the cost of conversion is cheaper:
Lower cost of marketing - you're making the most of marketing dollars you've already spent
Better conversion rates - returning customers are known to spend more than first time customers
Increased profit existing customers focus less on discounts and more on products they trust
And there are other advantages of repeat business, such as:
Knowing about existing customers makes it easier to identify and address their needs
Having trusting customers who are more willing to give you valuable feedback
Tapping into 'free marketing' through loyal customer referrals (word of mouth).
Customer retention programs your tool for managing loyalty
A customer retention program is a long-term strategy that will help you to identify, track and sell to existing customers effectively.

To be successful, you need to differentiate yourself from the competition and demonstrate to your customers that you are in tune with their needs.
Your program should include:
a loyalty marketing plan for rewarding 'happy' existing customers
a plan for turning 'at risk' customers back into happy, trusting and referring customers again.
People want to feel valued. Often, decisions are based on their experience and how they feel above their views on your product or service.

Listen to their needs, ask them questions, and use their feedback to drive your retention strategy.
4 tips for keeping your customers coming back for more
Giving back to customers doesn't have to be costly. Small, thoughtful gestures can invoke a sense of being valued and appreciated.
1. Communicate regularly
Build relationships through frequent communication. Mix it up with automated, event triggered touch points as well as personalised follow-ups. Here are some ideas for staying in contact:
Send a monthly email newsletter an interesting mix of industry and business/product news
Extend an invitation make them feel part of your business by celebrating milestones together
Create a personalised thank you card - show you appreciation of their continued support at the end of each year
Send a follow-up email or phone call proactively make contact post sale, for questions and issues
Extend a special offer personally invite them to take advantage of a one-time deal
Nothing say's 'we care' more than regular, courteous and worthwhile communication. Be sure to use the words they love to hear free, special, limited, new and instant!
2. Think outside the box with your rewards
While a discount or free gift is great, offering your customers the chance to select their preferred reward makes it more personal and appealing.
Use your knowledge of existing customers to tailor rewards to their needs and tastes. Provide an experience, aligned to what you stand for, as a sure-fire way to have them feeling loyal to your brand.
Begin rewarding automatically as soon as the customer signs up, and use a 'stepping stone to greatness' approach, where their VIP status increases the longer they do business with you.
3. Provide customer service where and how they want it
"77% of people say that valuing their time is the most important thing a company can do to provide them with good service." - Forrester Research

The best way to reduce customer effort and save them time is to use the channels your customers prefer:
Email remains the most popular channel
Customer service interactions have increased by 250% on Twitter in the last two years
A speedy response on social media has also been shown to increase customer willingness to spend
Pick the channel that makes the most sense for your business but be aware that phone/voice is considered the most frustrating service by millennials and Gen Xers alike!
4. Get customer feedback
Asking for feedback about a customer's experience or quality of purchase not only shows that you're interested in their opinion. It says that you're looking for ways to improve your business.

Send a satisfaction survey to:
gain valuable feedback for reducing pain points in the sales process
keep your business top of mind with customers.
You can create an efficient support system by using tools such as Campfire to ensure that all employees are in the loop when it comes to a customer's history and interactions.

An up-to-date knowledge database is worth its weight in gold in terms of understanding a customer's likes and dislikes, particularly if you need to reinvigorate their patronage at any time.
You must earn their loyalty continuously
Customers enjoy when a business knows them. So, take the time to document the behaviours and preferences of your repeat customers.

Communicate with them regularly via the channels they frequent, and recompense them with exceptional customer service and personally tailored rewards.

It's important to also remember that customers are loyal to "beliefs, not companies." Stand for something and build it into your customer retention program. Shared values are the primary reason consumers have a strong brand relationship.

Finally, keep the old adage in mind "Make new friends, but keep the old. One is silver, the other gold."
Retaining customers costs less than acquiring them and, if done well, can equip you with a lifetime of value and reciprocity.

If you'd like some help creating a loyalty program your customers love, talk to the experts at your local Snap Centre.
Author:
Snap Franchising Ltd