Good and bad customer loyalty stats - and how to profit from them
Published: 22 October 2018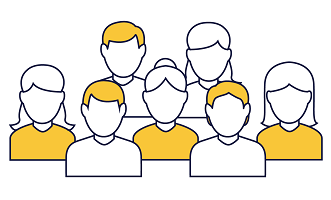 Returning customers are the lifeblood of business success.
On average, regulars spend three times more than one-off customers. And it costs much less to look after an existing customer than it does to bring a new one onboard.
So, it makes good business sense to invest some time, brain-power and money into keeping loyal customers happy.
But what loyalty offers work best?
Why do some fail miserably?
And do different target audiences want and expect different loyalty offers?
To help answer these important questions, we've compiled some important good, bad and ugly statistics from the world of loyalty studies.
And with them, tips to help you put a program in place that boosts customer retention, trust and business.
Most companies offer something (except in one sector)
More than 90% of companies use some kind of customer engagement or loyalty programme (Experian). This includes:
Points
Coupons
Customer events
Free shipping
Other rewards and thank you offers
However, a Loyalty One study found independent retailers don't rate so well in terms of action or perception:
Only 27% have loyalty programs
And 19% of independent retailer customers think they receive special offers to bring them back after a visit.
Not that companies with programs in any industry are doing much better:
85% of loyalty program members haven't heard from a company since they signed up.
How to profit
Create some kind of loyalty or customer retention offer for customers your competitors probably are.
If you are a small retailer, a loyalty program could set you apart from other SMEs and help you compete with bigger chains. Things like gift cards, discount and exclusive offers, VIP events and promotional items can work well.
Promote your program/offer loud and clear so people don't miss it.
Be sure to follow through with your promise after someone took the time to join and don't overpromise.
Businesses offer loyalty programs for various reasons
67% to drive customer retention
54% to generate revenue
53% to promote their brand
Most use them for several reasons. But ultimately, the big goal is to increase the life time value of each customer.
How to profit
Use a loyalty program to add value to your other marketing campaigns
Include it in your advertising, brand marketing, event promotions and POS material
Use limited time offers to create urgency around rewards.
Programs must be easy to join
70% of consumers do not sign up for a loyalty program due to inconvenience and time required to complete the registration (3CInteractive Study).
81% of businesses said email address is the most valuable piece of customer data when signing a consumer up to their loyalty program.
How to profit
Avoid lengthy registration forms that seem an effort and invasive
Ask for the minimum necessary to sign up is an email address, name and some other basic information enough at first?
Build trust with your customers before asking them for detailed information.
Use the extra data to provide more relevant and personalised offers.
Relevance is vital (especially for younger audiences)
49% of millennials stopped using a loyalty programme after receiving irrelevant communications.
54% of 18 to 34 year-olds said giving them the opportunity to personalise products they buy influences their feeling of loyalty toward a brand or company.
34% of 55 years+ felt the same way about personalisation.
Personalisation is a top priority for business too
Asked what they would like to be able to do better, businesses said:
better data collection 64%
personalisation 53%
How to profit
Understand what your audience like and value before sending out rewards and offers.
Consider segmenting rewards based on demographics, purchasing history etc
Personalise your loyalty program even using their name can create a strong bond
Look at ways to enable loyal customers to personalise the products or services they buy.
Good loyalty programs are proven to strengthen relationships between businesses and their customers.
The key is to create a program that is:
easy to join, understand and be rewarded
visible and known
relevant to your customers
measurable and adaptable.
And, of course, easy to manage and beneficial to your business too.
If you'd like some expert help and advice with loyalty cards and marketing, contact your local Snap Centre today.
Author:
Snap Franchising Ltd