Going back to basics
Published: 24 April 2012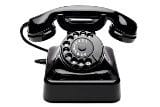 Sometimes it pays to go back to the basics to see the results you want.
Snap's Sales and Marketing team have been working with some of our Centres to discover a unique new marketing tool it's called the telephone. And we've discovered that you can not only play Angry Birds, you can also use it to ring people and have a conversation about your business.
Who would have thought?
We've been focusing on 3 key areas how to answer the phone, capturing enquiries, and follow up quotes. Pretty basic, it would seem, but the results have been encouraging. The new phone greeting has prompted some "I didn't know you could do my design work" comments from clients, a great opportunity for Snap to demonstrate we go beyond print. Consistent quote follow up saw a Centre achieve a $9,000 order. Capturing enquiry details correctly and asking some key questions turned a standard business card enquiry into the prospect offering $5,000 for Snap to assist with their first marketing campaign.
So while it is important to run printed and electronic marketing campaigns, it's also important to focus on the day-to-day basics. The results you can achieve may amaze you.
Find my Snap Centre/index.php?id=1171063