Go green for 2015: A guide to a more environmentally friendly office
Published: 3 February 2015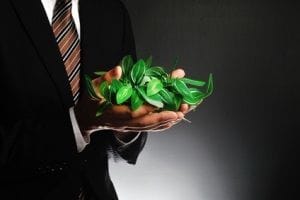 They say "every little bit helps", and this is particularly true when it comes to protecting the environment.
Small changes to the way we live our lives and run our offices can have a huge impact on our carbon footprint.
Hit the off switch
Electricity may seem like a minor consideration, but if every office in Australia made an effort to switch off equipment and lights that are not in use, it would vastly reduce the amount of energy resources wasted nationwide. Turning off computers when not in use, keeping air-conditioning levels low and switching off lights at night all play a huge part. Other lighting solutions include installing energy-efficient bulbs and buying motion detectors that automatically turn off lights in empty rooms.
Recycle
Reduce, reuse and recycle. It's simple advice but something that not enough companies take seriously. Whether it's documents that are no longer needed, packaging from new purchases or cans from the vending machine, much that gets thrown out in an office can be put into a recycling bin to help cut down on landfill waste.
Double-sided printing
Offices use a lot of paper each year, but as printing technology improves, it's possible to lower paper waste without losing out on information. The easiest way to do this and one that almost all modern printers are capable of is to set documents to print double-sided. This means halving the number of sheets you use and you'll still be able to have all the relevant information on hand. Not only will this help reduce the number of trees cut down for the production of paper, but you will also save money.
Additional printing tips
As well as double-sided printing, there are other ways to cut down on the amount of paper you use in your printer. If you have scrap paper, use it to print off documents that aren't going to clients maybe agendas for internal meetings or personal schedules. Decreasing the margins on documents will also maximise the printable space. Buying recycled printing paper is another step in the right direction.
Contact Snap to optimise your printing needs and help reduce any negative impact your business has on the environment.