Give your direct mail the Easter treatment
Published: 8 December 2020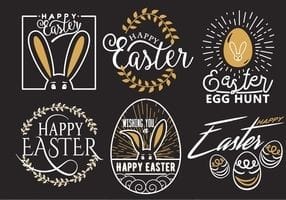 Easter! It's the second biggest holiday period of the year and a unique opportunity to hop outside your comfort zone and inject your campaign with a little holiday spirit. Here's how you can use direct mail to make the most of the long weekend.
1. Create personalised Easter offers
Last year, IBISWorld predicted that Australians would spend around $210 million on Easter chocolates alone. On top of that, we like to splurge on travel, Easter gifts and leisure activities anything to make the long weekend as enjoyable as possible. With our buying radars on high alert, now is a great time to send out a personalised Easter offer based on your consumer's purchasing preferences.
2. Include appealing graphics
Visuals will be key to setting the Easter mood. However, make sure your images and graphics are still in line with your brand identity. For example, if you're a real estate agent, cute illustrations of plushie baby bunnies, pastel Easter eggs and flowers may not work. In fact, they could end up hurting your credibility and putting your customers off.
3. It's all about family
For many, the Easter holidays are an opportunity to spend time together as a family. Adults are looking to recreate fond childhood memories by taking their children to Easter shows, preparing Easter egg hunts and hosting family gatherings. Using your Easter mailout to demonstrate that you share these values can reinforce your customer's emotional bond to your brand, which can tip future purchasing decisions in your favour.
4. Add a female touch
An analysis by Microsoft found out that women are the primary researchers in Australia when it comes to planning Easter purchases including food and travel. So, when designing the layout and graphics of your direct mail campaign, it might be a good idea to make sure it appeals to the women in your target audience. If you can make it appeal to both women and men, even better.
5. Send them on the hunt
Even adults enjoy a little Easter fun, so why not add a digital integration to your Easter mail that leads the viewer to an online Easter egg hunt? You could, for example, add a custom URL or QR code to your mailout, which brings them to the start of the hunt. This could be a specially created Easter landing page, or you could hide Easter 'eggs' across your website or social media pages for people to find.
6. Try different formats
With so much competition at Easter, it's important to make sure your mailout stands out from the rest. Does your design catch the eye? Could you add a special touch, like sending your Easter message in a colourful envelope? Alternatively, you could go one step further and create a uniquely shaped design that's in line with your theme.
7. Avoid clichés
On a holiday like Easter, it can be tempting to tap into the pun pond. But cheesy standard puns and phrases only rarely make an 'eggcellent' impression. In fact, they can be perceived as cheap and unoriginal, which may reflect negatively on your business. Whatever graphics, wording and layouts you choose, ask yourself first whether it aligns with your brand values and tone of voice. As always, the keyword here is originality.
Regardless of your campaign angle for Easter, don't forget to have fun with it! After all, this holiday not only stands for sweet treats, eggs and long-eared animals but also for family, friends and good times.'
Consult your local Snap centre to create a custom Easter mailout for your business.