Gifts to Give Clients This Christmas
Published: 1 November 2016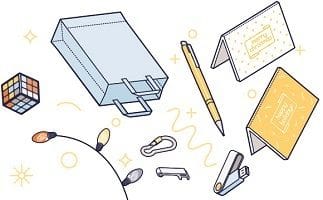 The holiday season is the perfect time to let the people you do business with know how much you've appreciated their support throughout the year. But are corporate Christmas gifts worth giving? Do they make any difference? And what should you give?
The benefits of giving to clients
A thoughtful gift with an accompanying personal note is a great way to keep your best clients coming back in the New Year and helps you end this year on a high note.
Build strong customer relationships
We all know it costs more to acquire a new customer than retain an existing one. Going the extra mile for your customers is the fast track to buildings strong relationships. A sincere gift that shows some thought has gone into the choice develop long-term loyalty and be a powerful repellent when competitors knock on their door.
Gain powerful free advertising
A gift to an existing or potential customer makes a solid impression in their mind, which also makes your brand easier to remember. A gift with your company's logo and name is a great way to raise awareness about your business every day of the year.
A cost-effective way of marketing your company to an extremely large audience while doing minimal work, gifting is a unique form of advertising at a lower price than many other methods.
Get a hit of pleasure chemicals
Giving also does amazing things for your own health and happiness. We give to express gratitude, appreciation, love (maybe not always a good idea with clients) and happiness. And research shows that gives us pleasure and makes us happier. A lot happier.
In fact, a study by the National Institutes of Health using fMRI scanning shows that when we give a gift our brain acts in a similar way to when we eat chocolate.
Four client gift ideas for Christmas
As we can see, there are some impressive reasons to give. The only question now is, "What gift can I give my clients this Christmas?" The great news is, it's not the price the matter, it's the thought behind the gift.
Here are a few examples of gifts that clients appreciate:
Personalised Calendars
Personalised desktop and wall calendars are a practical, thoughtful gift that also keeps you at the top of your customer's mind. They're also perfect for Christmas time when clients are checking dates to booking events, catch-ups and holidays.
And as they use it throughout the year your brand will regularly be on their mind. You can even mark special dates and add your own images.
Personalised Christmas cards
Rather than sending out a generic card, you can create a customised Christmas card for your clients. To a client, it says thank you for your support this year, and we want to help you in the year ahead.
To your staff, a card tells them that you truly appreciate their hard work and loyalty.
Promotional items
Did you know that promotional items like pens, stickers, notepads and gift certificates are more effective marketing tools than advertising?
Research shows that 90% of promotional products are used at least once a week. Plus, more people recall and buy from brands after seeing a promotional item than an ad.
Thank you cards
There are many reasons to thank clients, employees and suppliers at this time of year. They gave you lots of business. They helped make you a success. They gave you a gift or an invitation to an event.
A gift is really measured by the thought behind it. So a personal note in print or handwriting on a branded card is wonderful way to express true gratitude.
In the busy run-up to the end of year, it's important to make the best of Christmas season marketing opportunities, stand out from your competition and show the people that matter your gratitude. A thoughtful gift can help you achieve all three.