Getting into the Hawaiian mood
Published: 31 May 2012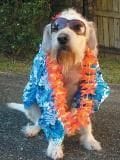 Dress it up
Meet Bundy the dog from our Snap Brisbane, Edward Street Centre dressed in tropical attire to promote our June Snap out of the Cold campaign where clients have the chance to win an expenses-paid trip to Hawaii.
Each month, Bundy features in the Edward St Centre newsletter for clients wearing a different themed outfit. He has worn raincoats, glasses, beanies and more! His pictures are remembered and commented on by clients of the Centre.
"Bundy is an integral part of our marketing activities. The picture of him in Hawaiian gear will help our clients take notice of the June promotion" said Judy Altenkirk, proprietor of the Edward Street Centre with her husband, Wayne. They are also the doting owners of Bundy, an enthusiastic Labradoodle .
"In addition to Bundy, we have decorated our Centre in Hawaiian theme. We have also arranged to send small gift boxes filled with sweets decorated with a hibiscus flower to our biggest clients to tie in with the June Hawaii prize promotion."
Just by placing an order for print, design or website work from June 1-30, 2012, Snap Centre clients around Australia will have the chance to enter our Snap out of the Cold competition to win a trip to Hawaii. Entrants have to answer the question "I Snap out of the cold by" in 25 words or less - with the best answers chosen from each state grouping.
Each winner will receive flights for themselves and a partner and will enjoy accommodation at the 5-star Sheraton Waikiki with a A$1,000 Visa debit card to spend.
Each order at a Snap Centre entitles the client to a new entry, so the more orders placed the better the chance of winning.
Expect to see loud shirts and colourful displays at Snap Centres around the country as they vie with each other to promote the June campaign in the most creative and eye-catching way.