From scientists to surfboards
Published: 15 December 2011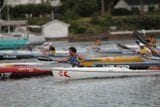 Snap Royal Challenge
Last week we blogged about the amazing young people we met as part of Snap's sponsorship of the NATA Young Scientists of the Year Awards.
This week we turn our attention to the incredibly fit, through another Snap sponsorship the Snap Royal Challenge.
The Snap Royal Challenge was held last Saturday (10 December) in Sydney. The hardcore endurance event included a a 12.5km ski paddle from Gunnamatta Baths to Audley, a 22km run to Waterfall and back then a return ski paddle to Gunnamatta Baths.
More than 100 triathletes, runners and surf lifesavers took on the gruelling annual event in unseasonal conditions.
As those in Sydney know, we have been having some unusual December weather lately and there was quite a downpour last weekend. It made some sections of the run very muddy which saw many paddlers returning caked in mud.
Even so, many finished the event earning both the respect of their peers and money for charity.
The event raised some $40,000 for Sydney Children's Hospital which is a fantastic effort.
Snap is proud to be involved with The Royal Challenge congratulations to everyone who took part!