Four tips for your Easter marketing
Published: 2 March 2016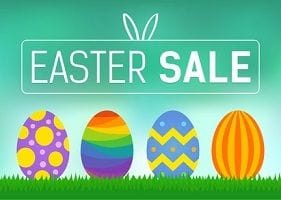 Make your business stand out and appeal to clients
As we approach the quarter way mark of the year, we welcome with it the prospect of Easter, which is anticipated to be one of the busiest periods of the year for businesses that prepare for this time sensitive opportunity.
1. Run a special Easter promotion
Having a dedicated Easter offering will encourage potential customers to respond immediately and provides an excellent way to align your business, service or product with the spirit of the season. Some of the main benefits include:
Increased traffic: Discounts serve as a ploy to attract the interest of consumers, which can lead to increased sales
Opportunity to up-sell: By packaging or bundling products around an "Easter theme", you entice visitors to consider buying other non-discounted items. As such, you create an opportunity to up-sell or cross-sell items where you can charge premium prices, thereby generating sales of multiple items rather than a single (discounted) item.
2. Embrace and display your Easter spirit

Regardless of what products or services you offer, using the right designs and colours can help you better communicate your offering to potential customers. For Easter, start by setting the proper tone and turn your promotional campaigns into profitable sales by theming your marketing materials to mark the occasion. By giving your business an Easter feel, you can derive valuable benefits, including:
Bridge the meaning of the holiday with your product or service
Attach authenticity to your offering and a 'reason why'
Drive increased attention
Draw potential customers to your store/website
3. Organise an Easter event

Holding a family-focused event is a great marketing tool that can help to drive traffic to your door. Organising an event (like a visit from the Easter bunny) not only demonstrates an appreciation for your customers (and their children), but also encourages engagement.

Advantages include:
Create buzz about your business
Boost traffic to your store or website
Create a positive association with your business
Gain increased exposure
Strengthen the relationship between the business and consumers
Collect information for future marketing campaigns
4. Launch an Easter social media campaign

From a marketer's perspective; Easter is a highly anticipated holiday that offers a great chance to get creative with social content. Regardless of what segment your business serves, social marketing can be an in-expensive way to cash in on the excitement period and deliver your message to a wider audience.
Harnessing the Easter spirit can also provide tech-savvy business with avenue to tap into the hype the holiday generates, whilst capturing the attention of their target market by connecting with them through a common theme.
To find out how you can maximise your seasonal marketing efforts, contact your local Snap Centre today.