Five web design trends to inspire
Published: 24 February 2016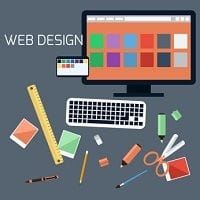 Keep your eye on the trends
Whether you're starting a completely new website or revamping an existing one in 2016, it's important to keep an eye on web design trends to ensure your website is relevant, technically sound and futureproof for the coming years.
Here are five web design trends to get the creative juices flowing and inspire you for your next website.
1. Responsive web design
Perhaps the most well-known trend of the five, responsive web design is by far the most beneficial to your business from a search marketing point of view. Not only does your website look great on all devices, it's likely to rank better on Google, which potentially means more prospective clients as they will be able to find you online ultimately leading to more sales.
2. Cinemagraphs
"Wait, did I just see that picture move?" Cinemagraphs are GIFs that appear to be halfway between a photo and a video. Only part of the image moves, and often the movement is subtle yet intriguing enough to warrant a double take from the viewer.

While they have been around for a long time, cinemagraphs are increasing in popularity as more people use mobile devices to access the web or are concerned about data from video streaming. A cinemagraph helps set a mood for your website, with the bonus of providing more information on a product or service than a photograph.

Not sure where to apply them? Try using cinemagraphs to showcase your key products or services with a twist.
3. Website as a storytelling device
Rather than a traditional website with a header image and a menu, websites are now experimenting with the platform as a brand-storytelling device where visitors are immersed in a story from the second they land on the homepage.

From a website that draws you into an immersive video like Under Armour's 'I Will What I Want' or the informational Ice and sky, web design can be about so much more than just a homepage. If you're inspired but don't want to commit to storytelling on your homepage, a dedicated landing page or microsite is a great alternative.
4. Custom-drawn illustrations
There are plenty of websites out there that use stock images, and sometimes it can be hard to distinguish businesses from their competitors. Custom-drawn illustrations are a great way to separate your business from the herd and they're reasonably affordable as well.

When it comes to nailing this trend, it's all about finding a style that complements your brand identity. Bold lines and colours suit brands that are trying to appear fun, while clean illustrations are great if you're trying to appeal to professionals.
5. Parallax
While parallax websites have been around for a few years, they still provide a 'wow' factor when visitors land on the page. Parallax pages are designed so the background moves at a different rate to the foreground, giving the impression that the objects on the page are in movement like these examples from SBS Australia and Porsche.

Rather than use this as the main template for your website, parallax is perfect for showcasing a new product or service, telling a story or as part of a dedicated marketing campaign.

Want to utilise these great trends on your new website or website revamp? Contact Snap for all your web design needs.