Five tips for a better work-life balance
Published: 10 July 2014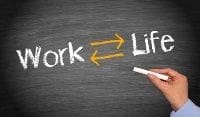 Technology has allowed our work lives to seep into our home lives like never before.
As a result, achieving the perfect work-life balance has become one of modern life's most widespread pursuits. These five tips will help you work better, not harder, and find that elusive balance.
1. Shift your thinking
Part of the reason many of us are overworked is because we believe more is equal to better, but have you ever noticed how your best ideas always come in the shower or while you're enjoying a moment of quiet at home? More often than not, productivity and innovation come from having a happy balance in life, so it's time to actively work some downtime into your schedule.
2. Switch off
Scrolling through eMails right before we go to bed and checking them each morning when we wake up can prevent us getting the good night's sleep we need to really succeed. Make a deliberate effort to switch off and find yourself happier, healthier and better equipped for your busy life.
3. Exercise your right to say no
How do you deal with that extra task your boss just asked you to do? If you've been working hard during regular work hours and even putting in overtime you have every right to explain your busy situation and can say no without feeling guilty.
4. Work out to work harder
Scheduling exercise time into a busy week may seem counterproductive, but regular exercise actually keeps you alert, clears your head and releases those oh-so-crucial endorphins to keep you happier and healthier. Health really is equal to wealth.
5. Control what you can and forget the rest
Manage your time the best you can, create processes, schedules and rhythms that work for you as an individual, and release those aspects of your life that are out of your control so you don't waste time worrying about them.
Contact Snap to find out about our printing solutions.