Five powerful presentation design tips
Published: 29 May 2015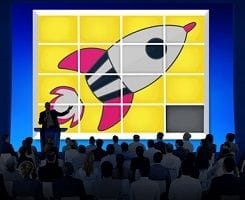 No matter how much work goes into the content and delivery, design can make or break a presentation.
Take your presentation beyond the standard template by implementing a few simple aesthetic tricks that will instantly make your business look more professional and grab your audience's attention with the very first slide. These five handy design tips will help you elevate your PowerPoint presentation from good to great, every time.
1. Create a strong cover and simple frames
Give your presentation a unique look by taking the time to choose your own cover. Pick a strong, simple image and a clear font. Use the same colours and fonts to create simple frames for the rest of your slides, giving your presentation a clean, cohesive look.
2. Use filtered images for the backgrounds
Say goodbye to boring slides by replacing dull, block-colour backgrounds with filtered images. This will make the slide look more dynamic without distracting the focus from the main text (this technique is most effective on slides that don't contain complicated graphs or images already).
3. Change the transparency of white blocks of text
You can make these backgrounds look even snazzier by changing the transparency of the white text boxes containing your information. Reduce the opacity and let the background image show through just a little bit, to add some mood to your PowerPoint slide.
4. Place text and images in grids
Make sure your slides look neat and pleasing to the eye by adding text and images in grid shapes. When you freestyle and put your elements anywhere on the slide, you can end up with a muddled, confusing look a grid makes an excellent guideline.
5. Embed multimedia and crop text and images into custom shapes
If you want to give your presentation an edge, simply embed a few multimedia elements. Add theme music to important slides and pop in a video that illustrates your point. Add some interest to text boxes and images by cutting and cropping them into custom shapes, allowing you to get creative and fit them into the page seamlessly.

Contact your local Snap Centre for more great design tips.