Five easy ways to get the financial year off to a fresh start
Published: 26 June 2014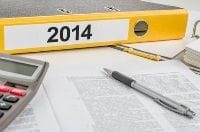 Take the stress out of the end of financial year.
Here are five easy, actionable tips that will get you off to a fresh start in the new one.
1. Clear your computer desktop
Take the new financial year as the perfect opportunity to sort out your computer. Clear your desktop of orphaned files, ensure all folders are well organised and up to date and treat yourself to a new, upbeat wallpaper.
2. Get your paperwork in order
If keeping physical copies of your expense receipts and bank statements has proven tricky in the past, why not digitise your paperwork? This year, scan and save all relevant items and keep them filed and organised on your computer.
3. Cull your mailing list
Streamline your inbox by taking a few hours to check through your eMails and unsubscribe yourself from all unnecessary mailing lists. It may be easy to just hit delete when unwanted eNewsletters or sales eMails arrive, but if you take half an hour to unsubscribe now you'll save yourself a lot of time and hassle in the future.
4. Remove those unused apps
Get out your smartphone or tablet and search for any apps and programs that you've downloaded, used once or twice and then forgotten about. Free up space and help your device work more efficiently by deleting everything you haven't bothered to open in the last few months.
5. Check staff supers and new regulations
Check that your superannuation payments are all up to date and as they should be. The new laws surrounding super are a lot tougher on businesses that have missed payments. It's also worth visiting government websites such as ato.gov.au and fairwork.gov.au to see if there are any new regulations you need to know about.
For more great business tips, visit the experts at your local Snap Centre.