Five design hacks to increase your social engagement
Published: 7 September 2015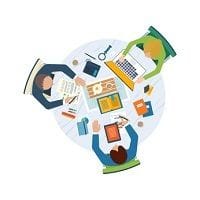 On social media, you are competing with other brands for your target audience's attention.
You are hedged against their friends, family, the celebrities they love and the latest video of a cat playing the violin. Learn how to stand out in this environment by using these five design hacks to create visual content that is instantly attention grabbing and engaging.
1. Keep it simple
Users on social don't linger, they scroll. This means consuming content at a rapid rate, so the simpler and sharper your content, the better. Design your images with clear messaging in mind and aim for fewer words, or no words, a powerful statistic or quote and a great caption.
2. Pay attention to your billboards and backgrounds
When your client lands on your social media page, the first thing they'll see is your billboard or background image. Make this first impression count with an image that speaks volumes for what you're all about and positions your brand in its best light. Check out Lorna Jane's instantly captivating Facebook page for inspiration.
3. Use your brand colours
One of the aims of the game is to create a page that is instantly identifiable as being an extension of your brand. A great way to do this is to carry your brand colours, tone and style through elements of your social designs. For example, Coca-Cola uses its iconic red and white in just about every social post they create.
4. Make information visual
Think about ways you can incorporate your products, services or brand messaging into something instructional or informational and how that can be communicated visually. Whole Foods Market nails this on Pinterest with recipes and infographics incorporating products it sells.
5. Design to scale
We know it's faster and easier to pump out one design and plaster it across every social network, but all too often this fails due to bad cropping and different image guidelines across the different platforms. Netflix ANZ takes impressive care with this. Check out this Gravity gif shared on Twitter, a network where even big brands are prone to laziness!

Contact your local Snap Centre to talk to a graphic designer about how to maximise visual content for your social media.