Five benefits of mobile apps for business
Published: 3 August 2015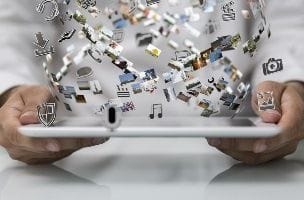 In a mobile world, apps are quickly becoming an invaluable way to connect with clients.
Is it time you created one for your business? Here are the five benefits of mobile apps for business.
1. Leverage existing assets
If you already have a great site and lots of excellent content, an app could be the perfect way to leverage your existing work. Include your best assets such as articles, videos, SlideShares and podcasts to make it easy for people to access your content on the go and find the information they want at their fingertips through a brand new channel.
2. Maximise your social investment
Ensure your app is efficiently linked to social media platforms such as LinkedIn, Facebook and Twitter so that clients can easily share their activity and the content they find interesting online but do avoid bombarding users with messages asking them to connect.
3. Be GPS and QR code savvy
Create an app that makes use of your users' locations and enables clients to scan QR codes to receive special discounts and coupons. That way, you'll be giving your client a great incentive to not only download your app, but to sign in regularly.
4. Allow clients greater access
Because most of the information your app needs is stored within the app itself, it's not only faster than web browsing, it can be available when the user is offline too. What's more, the fact it's displayed on a mobile or tablet screen 24/7 rather than buried in a browser tab is perfect for passively increasing brand awareness.
5. More data to play with
An app will also offer you a whole new way to gather data about your clients perfect for drawing up new benchmarks and improving your sales cycle. And, by connecting with a different demographic via an app, there will be plenty of opportunities for lead generation.

Whether your app repackages content you already have in a mobile-friendly way, is entertainment-driven or offers time-saving benefits, it could give your business just the leg-up you're hoping for.

Contact your local Snap Centre to discuss the best ways to connect with your clients.