Event Ice Breakers - 9 conversation starters that work every time
Published: 12 March 2018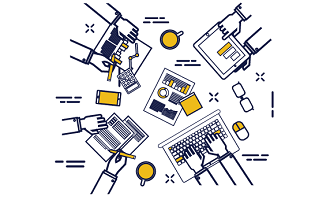 Walking into a room full of strangers can be daunting. When those strangers also happen to be potentially invaluable clients and suppliers it's easy to get tongue-tied after "Hi, I'm (insert name), nice to meet you".

But, as it happens, free-flowing conversation with someone new is one of the most powerful ways to build your business. People like to do business with people they like.

So, to avoid the sound of nothing but crickets chirping in the background at your next business networking do, here are 10 event conversation starters that take the stress out of talking to complete strangers.
"How's your day going?"
It's always good to ask an open question that can't be answered with a yes or no. This one is easy and effective if delivered with a genuine smile.
"How did you hear about this event?"
Not just a good way to open dialogue, but a subtle way to learn about other sources of information, new networks and groups on social media. Will often lead to other topics that keep the conversation going.
"What does your company do?"
Everyone loves the chance to talk about their own business especially at networking events. This is a way to learn about someone's expertise, products or services to see if there is a match professionally or personally.
"How did you get into the industry?"
There's only one thing people like talking about more than their business - themselves. If you ask someone how or why they chose their career path, you'll often get insight into their passions, skill sets and goals. It's a great way to learn, share and connect in a meaningful way.
Ask for advice
If you're away from home for an event, asking for advice about your destination from those who seem more familiar with the place can be a great way to get people talking.
"Did you hear/read about...?"
Topical news can be a novel ice-breaker, but stay clear of seriously dividing topics such as politics and religion.
Think of a big topic of the day or week and ask. "What did you think about(insert person or event)?" If by some slim chance they haven't heard about it, you can share the news with them.

Another option is to say, "I've been so busy I missed the news today, do you know if anything happens with (insert big topic)? I really want to know"
"Did you hear (x) speak?"
Similar to the tip above, but bringing it back to the event itself. Being at the same conference means listening to the same speakers and attending the same sessions. It's a great starting point to as, "Did you see X speak" or "What did you think of the session?"
Offer a compliment!
"What a great looking laptop. How are you finding it?", "That's a beautiful necklace. Do you mind if I ask where you got it?", "I heard you speak earlier, I really enjoyed your thoughts on" - offering a compliment is an easy path in to a conversation and story behind the topic.

Make sure that it's sincere and appropriate.
Try a little humour
If you find yourself near a stranger who is indulging in the same food or drink as you, something lighthearted is a good conversation starter. For example, "I just came for these celery sticks." Or "So, on a scale of 1 to undrinkable, how terrible is the wine?" Then, ask a question like, "How'd you hear about this event?"

You have to be careful with this one because not everyone has the same funny bone. And you don't want to be talking to and offending the person who organised the event.
First impressions count for a lot. So, don't be remembered as, "that uncomfortable silence person".
Test some of these ice-breakers at your next event and you could be the one everyone wants to get to know and do business with.
Author:
Snap Franchising Ltd