Effective email marketing
Published: 14 August 2012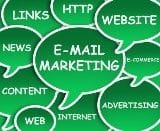 Email marketing that works
A well-planned and executed email campaign can be highly effective when it comes to communicating to the right audience and building your brand following. However, get it wrong and you risk alienating your clients and losing out to rivals in a highly competitive marketing environment.
Planning
Consider the following when it comes to planning your email blast:
Do you want to personalise the content to your reader?
What day and time do you plan to blast?
How frequently do you want to blast?
Ensure your database is up to date to avoid bounces.
Compelling Content
Email marketing is competitive. Ensure your message stands out in a cluttered environment and make sure skim readers will get the message as soon as they open.
Have a strong subject line to stand out in an inbox.
Make sure your main message appears as soon as they open.
Make sure you have a clear call to action.
Make sure you have the right legal mandatories in place, like an unsubscribe option.
With email marketing, you can test and retest until you get the formula right. Try different layouts and different blasts until you discover what works best at generating leads, building a loyal database of clients and ultimately ensuring you sell your products and services.
At Snap, our graphic designers have considerable experience when it comes to email marketing and can help you design an email that will drive all of these business benefits.
Contact your local Snap Centre today to discuss your email marketing requirements.