Does your website need an upgrade?
Published: 5 January 2017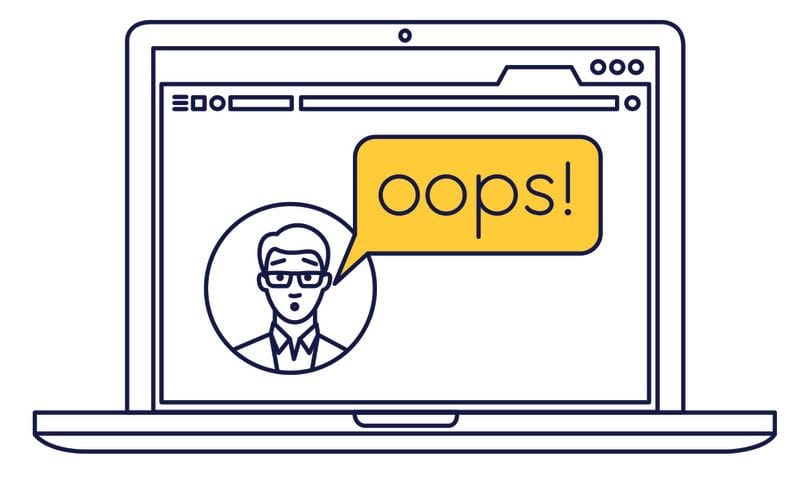 10 website traits that could be losing you rankings and business right now
Websites are like teen pop stars, fashion and hipster baby names. They date quickly and rarely come back any time soon. The difference with a website is that, if you're not keeping up with the latest trends, it's not just your personal taste that will be under the pump.
People and search engines judge the credibility of your company on the design and effectiveness of your website. And that in turn impacts your sales and profits.
How does good website design boost business?
Attractive design, sturdy technology, well written content and logical navigation:
ensures people find and come back to use your site
makes it easier for people to learn about and buy products and services
improve your Google search ranking.
Bad or outdated web design does the opposite
But what exactly is 'bad' design and how do you know it's time to update your website? Here are 10 website traits that could be impacting your business negatively today.
1. Your site is not mobile responsive design
Almost 80% of Australians own a smart phone and those mobile devices are how most people are accessing the internet. In April 2015 Google came out with a 'mobile friendly' algorithm that promoted mobile friendly sites and demoted those that did not look or work well on phones and tablets.
In other words, if your website doesn't change to look and work well on small screen sizes, Google would lower your site's SEO ranking. And you won't even show up if someone searches for your site on a mobile device.
2. Your site is not easy to use
When developing a website, you need to keep your audience's wants and needs as first priority. That means making it a breeze to know what you do as soon as they arrive, and just as easy to move through your website to the things they want.
Simple and intuitive navigation is the key. If visitors can't instinctively use your website, they're not going to stick around, click to other pages or buy.
3. High bounce rates
If your website visitors bounce, i.e. they arrive and leave quickly without clicking on any other page, it suggests they didn't find what they were looking for. A high bounce rate tells Google your website visitors are not liking what you offer and aren't converting into leads and customers.
So they push your page down the rankings.
4. Slow load times
Nothing is more annoying than waiting for a webpage to load. Ok, that's not completely true, but 50% of consumers expect a web page to load in within two seconds. Another 40% will abandon a website that takes more than three seconds to load.
And that's not including mobile audiences who are even more impatient.
If you have lots of large file images, or your website host is located overseas, it could be impacting your site speed.
Oh yeah, grumpy Google doesn't like slow either.
5. Your site lacks visual appeal
While we humans like to tell each other, 'It's what's on the inside that counts' we all know looks play a big part in our attraction to many things in life. Including websites.
Your website's design is a huge driving force in whether or not a customer will purchase your product or service. You need a modern, easy-on-the-eye look to attract your target market.
6. Outdated content
Keep the words on your site fresh. That's what people are looking for be it new blog articles, infographics, videos etc or updating your page content to reflect the changes in your business over time.
Seeing content that is no longer valid can quickly lower your credibility in reader's eyes.
Well-formatted content is also important. Get rid of those walls of words and break text up into headings, sub-headings, paragraphs and bullets so it's easier and more enjoyable to read.
And yes, Google likes it when you get fresh too.
7. Lack effective call to action buttons
Are you clearly telling visitors what you want them to do on your site? If you want them to take the next step, it's important to have strong and strategic calls to action that guide and compel people to click buttons, links etc.
If you aren't helping people with a clear call to action on every page, you're probably losing business.
8. No social share buttons
Social media plays a big role in helping build relationships, moving people towards sales and search engine rankings. So you want to make it easy for visitors to share and access your pages on social media.
Think about the two or three most popular social networks that your audience use. Add some buttons on your pages to help them like your content, share what you offer and tell the world how great you are.
9. Using generic stock photos
A picture is worth a thousand wordsthat is, as long as it's not an obvious or bland stock photo. If you are using photos that look like US situations, have models posing as call centre staff, or add no value to the content, it's time to organise a photographer.
A lot of research has been done into website photos. People have far more trust in businesses that use real people - staff and customers. Just make sure you get them professionally shot. Bad quality photos are the second biggest hate when it comes to images.
10. No interactive content
People like to learn in different ways. They also like to interact with web content (or they get bored). So if you're webpages are 100% text, adding videos, infographics, quizzes and other more visual elements will help to keep people more engaged in your message and on the page longer.
And you guessed it. Google's mighty keen on the interactive content idea too.