Does the past influence the future
Published: 8 February 2013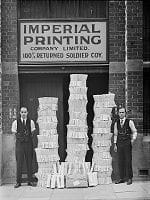 Snap's history is long, proud and 100% Australian.
After the company started in Perth in 1899 it evolved into the Imperial Printing Company, providing jobs for soldiers returning from war. This heritage of looking after and supporting others has formed the basis of the Snap Franchising Group we know today, and it's interesting to me to see how a company's past can influence its present culture.

Many of our Franchise Owners are generous in their support of local charity efforts for causes that are close to their hearts, raising much needed funds and supporting organisations and community groups, just like our Snap fore-fathers.

Today I wanted to share a story. Many of the Snap family have a teenage son like me, and we know they present unique challenges at times! But they can also surprise you.
My son Jordan has decided to support a charity close to my family's heart - the Leukaemia Foundation's World's Greatest Shave (much to his teacher's relief the shaggy hair will soon be gone!). Starting on Monday he set a target of $500 which he raised in 4 hours. Today he has passed his second target of $1000, and is now aiming high to double that. But more surprising to me was the story he wrote to accompany his fundraising page an honest account of why he is raising money. So for me, the past has influenced his future in a way that makes me proud as a mum!
To read Jordan's story or show support, visit the sponsorship page here.
Imperial Printing image: State Library of Western Australia 014040PD