Do you make it easy for your clients?
Published: 12 November 2015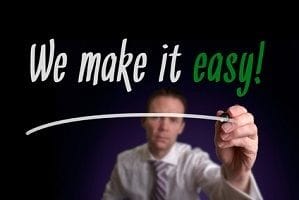 Many obstacles need to be navigated when chasing new business.
One of them is knowing your competition. You need to understand who your competitors are, make sure your offering is on par if not better than theirs, and make sure your customer service is not to be matched.
Addressing this however may not be enough. The biggest barrier to completing a sale is not always another competitive offering; sometimes it is a prospect's perception. A prospect might see the task at hand as just too hard to tackle right now.
Do you make it easy for your clients? For example many of your prospects may know their website is in need of an overhaul but do not do anything about it. The thought of tackling the problem can be overwhelming. A sense of dread may envelope them at the thought of pulling together all the information required. Our challenge is therefore not just to provide a better offering than our competitors; we must also to make it as easy as possible for our prospects when contemplating a new website. The same would follow for any of the other services we provide. We need to make the customer experience seamless. If we can solve problems easily our services are likely to be required more often.