Do I need a mobile app if I have a business website?
Published: 19 August 2016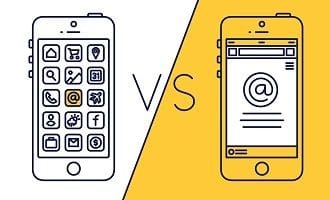 If you run a business that relies on web traffic, you need a mobile app. These days, a website isn't enough to keep up with, or ahead of, your competition.
Why do you need a mobile app? Here are some stats to consider:
smartphone and tablet users now account for 60% of all web traffic
internet users are more impatient on phones than computers
In other words, you need to do everything possible to make it easy for your mobile audience to visit, use and buy or enquire online.
But is it worth developing and launching an app if your website is drawing an audience and converting visitors to customers?
Well here's one more stat to consider...
'86% of mobile users spend more time on mobile apps than mobile websites.'
Flurry Analytics Research
So, if your website is doing well online, imagine what you could do with an app. And if your website is not living up to your high hopes, 86% more engagement through an app could be the answer.
Stats aside, here are some practical benefits to consider
Be visible on phones online and offline
Imagine if your business was visible to your customers on their phones all the time. Even offline.
That's what an app can be designed to do. For example, selected product and service information, content they've stored on the app or location-based information.
Apps are also known to perform better than mobile sites, given their non-dependence on internet availability or bandwidth speeds. That reduces friction in a user approaching your brand.
With an app, you can keep your customer's attention even when they're away from their desk.
Add a powerful new direct marketing channel
Mobile is where your users are today. To be able to reach them through a proactive route like push notifications can be a boon. Even if they aren't reaching out to you, you can reach out to them.
And like all marketing efforts, there are also positive effects on the bottom line in other ways. Mobile apps are a potential source of advertising revenue. The bigger your audience, the larger the opportunity to earn passive income from relevant advertisers.
Boost customer retention and loyalty
What better way to get warm and fuzzy with your customers than a personalised approach based on things you actually know about them, their preferences and usage patterns?
There are lots of ways to build loyalty and keep people returning to your app. Many of them are simple to implement, such as:
allowing them to create wish lists
offering location based rewards as they enter a store
providing exclusive news and updates
sharing tips based around their interests
tailoring your offers to their preferences
Mobile is the future of the web and doing business. It's already the most popular way for people of all ages to access the internet.
Exploring the option of adding a mobile app to your business channels, marketing and loyalty strategy could have a big impact on your customer, sales and business growth.