Display signage - 5 ways to boost your ROI
Published: 26 February 2018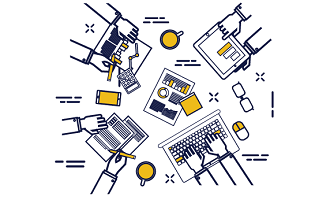 Your display signage banners, posters, signs, decals, stickers - is often the first introduction customers have to your business, new product launch, promotion or other important news.
So, you don't want to let this precious moment go to waste. Or hot prospects may just ignore it and never take a second glance.
Powerful display signage says so much with so little
When you understand what matters to your audience in relation to your offer, you can create display signage that grabs their attention and prompts them to take action, by:
Providing information
Letting them know what you do and the kind of products and services they'll find in your business.
Helping them navigate
Help them save time and effort by directing them to the things they need.
Reducing their frustration is a key to encouraging people to stick around longer in-store. The longer they stay, the more likely they are to buy.
Pushing promotions
Highlight discounts, sales, bonus offers, memberships, specials of the day and more.
Entertaining
When people are browsing or standing in check-out queues they're looking for anything to distract them from standing around.
The right display signage with the right mix of information and entertainment can reduce the angst and may even encourage an unexpected purchase.
5 ways to turn your display signage into a money-maker
Placement is a priority
Where and how you decide to display the signage has to be properly thought through as much as the design elements and content.
The benefits are obvious if we're talking about a promotion if they don't see it they don't know about it. However, it also applies when people are searching for your signage.
The ease and speed that customers find your shop, office, event etc can impact their perception of your business. It can even influence purchase decisions.
Just like on a website or doing almost anything these days, people are impatient and will quickly turn from happy face to sad face if they can't find what they need.
Design to catch attention
We're all bombarded with advertising and signage boards throughout the day. Most people don't think to stop and look at a display unless it really stands out.
Your sign's message needs to be clear and concise. Too much information is too much effort to read. Make sure to use fonts that are easy to read both on the move and from a distance.

Contrast your colours
As part of that 'look at me, look at me!" design strategy, opt for colours that contrast between the background and images or text especially if your brand colours are quite light.
To create even more distinction between the sign design and environment, consider a border.
Focus on audience benefits
Most people who do notice your signage aren't going to hang around and read it like a brochure. So, you have to get to the 'What's in it for me?' bit extra fast as they stroll past or wait impatiently in queues.
To persuade your customers to buy a specific product or sign up for an offer, make sure your messages focus mostly on the benefits of your offer be it a product, service, event, visiting your business, etc.
Introduce them to your social pages
Not everyone is going to take up your signage invitation immediately. A smart way to make your display work even harder for you is to promote your Facebook, LinkedIn, Instagram or Twitter page on your signage and invite them to join.
That way you can continue to communicate with them, build a relationship, let them know more about what you do and promote other offers.
Display signage is an important component of your business's overall marketing strategy.
If you need some expert help designing and printing any type of signage, talk to your local Snap Centre expert.