Direct mail fails - 6 mistakes and how to avoid them
Published: 17 July 2017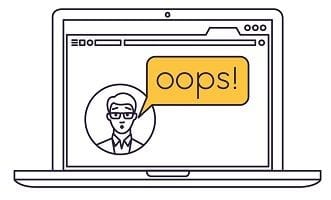 You may have seen research we wrote about recently that showed direct print advertising is more effective than online. And even heard that personalised direct mail is 15 times more effective than mass mailing.
But direct mail personalised by names or other characteristics can only help if you're doing everything else the right way too.
Here are six common direct mail pitfalls to avoid - so your campaign is primed to grab the attention, conversions and returns for your business that it deserves.
Working with a flawed list
The cake base for any successful direct mail campaign is its mailing list. If a list is too generic or unknown and hasn't been vetted for data accuracy or scrubbed for duplicates, it's better left untouched until you can refine and tweak it.
Even the most compelling copy, design and offer can't charm someone if you're sending them mail to a wrong or non-existent address.
Not understanding your audience
If you've read many of our articles, you'll know we harp on this point regularly. That's because, nothing is as important for success as what your audience wants from you.
Depending on the offer, your message, design, etc may need to be tailored to audience segments based on things like age, income, location, problems, desires, etc. Otherwise, they may not connect with your reader.
Proper mapping and segmenting, based on these sort of key indicators, needs to be done up front.
Failing to connect with your target market
Once you know your audience and their needs, you have to craft copy, design, images, etc that makes them feel like your direct mail is a one-to-one conversation with them.
This means addressing those problems and desires that you learnt about in your audience research or that you already understand. And using images of things or people they can relate to.
Otherwise, they won't notice your piece their mailbox or will add it to the pile of junk mail from another company that doesn't 'get' them.
Not hitting the mark with your offer
Like The Godfather, your direct mail campaign can only succeed if it makes your audience an offer they can't refuse. Unfortunately, many direct mail campaigns either:
don't make it clear what's being offered
don't offer something the audience wants right now
In addition to your message and design, it's about a compelling offer they feel they need to act on immediately. This could be a discount, something exclusive, a free sample only available for a limited time or in a limited quantity.
In the end, everything depends on how your audience reacts to your call to action.
Not running a test before firing
We can teach you best practices, but you can't be sure they'll work for your campaign unless you test them. Many direct mail campaigns go out without any assurance that the audience is going to respond well.
There are many ways to test, such as sending different:
versions of headlines, copy, images or call to action
mail formats
days of the month
Only after you have enough data to know what works with your target market do you roll out your direct mail campaign.
Taking the time to test can save you a lot of money on incorrect decisions, as well as boost ROI through the tweaks you make after testing.
Not tracking results or following through on responses
Without a well-defined goal and diligent tracking of every campaign, it's not possible to evaluate performances objectively, and understand what needs to be improved in the future.
Similarly, not following up on every lead is money being thrown away. Replies and purchase requests need fast action to avoid losing business, or even making you look insensitive.

A well planned and executed direct mail campaign has the capacity to dramatically boost leads, sales and ROI. But to ensure direct mail works to its capacity you need everything working together.
If you want some help designing, creating and executing a direct mail campaign, your local Snap Centre direct mail experts can help.