Differences between offset printing & digital printing
Published: 20 November 2012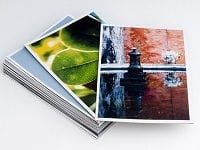 Which print method is right for my job
Advances in digital technology have opened up a new world of print possibilities, but that doesn't automatically make digital the better option. It's important to understand the differences and benefits of both digital and offset printing before you book in your next print job.
Offset printing
Offset
printing
is a conventional print method and most common for high-volume commercial print jobs. Offset printing involves your image being burnt onto a plate, inked, transferred to a rubber blanket and then onto the paper. A lithographic process, offset printing relies on the repulsion of oil and water to create the actual print.
The benefits of offset printing include:
Sharper and cleaner results.
Works well on various print surfaces including metal, leather and plastic.
Unit cost decreases as total quantity increases.
Usually offers more finishing options.
Produces better quality on large solid blocks of colour.
Can be cheaper for two-colour or black-and-white jobs.
Best for: High-volume print jobs.
Digital printing
Many of the setup steps required in offset printing are eliminated by the modern technologies of digital printing. The process starts with a digital file that is rendered through a software program to prepare for printing. The file is then sent to the printing press where an electrical charge transfers the image onto the paper. Digital printing is often called 'on demand' because of its automated process and the fact that it takes a fraction of the time of offset printing.
The benefits of digital printing include:
Minimal setup required, which saves on cost.
Digital files can be easily modified.
More eco-friendly.
Quick turnaround time.
Flexibility to accommodate variable data jobs such as personalised letters.
Less prone to variations between prints.
Best for: Low-volume print jobs.
To find out more about how we can help your business with all your printing needs, contact Snap today.