Dare to dream
Published: 28 June 2013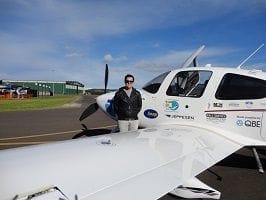 A Snap success story
When Ryan Campbell approached Snap last year, he was typical of many of our new clients with their own business he was just starting out and needed a logo, business cards, stationery and a website. Someone had told him to contact Snap, and we were happy to help him get started.
The only difference was Ryan's business was to fulfil a lifelong dream to become the youngest person to fly solo around the world. The 19-year-old pilot from Merimbula on the NSW South Coast will attempt to break the World Record for the youngest person and first teenager - to fly a single engine aircraft solo around the globe.
The ten-week journey, that starts from Wollongong Airport this Sunday June 30 at 7am and is scheduled to conclude back in Wollongong on September 7, will see Ryan cover almost 24,000 nautical miles including 28 stops in 14 countries on five continents, with legs ranging from 14 hours (Hawaii to California) to 15 minutes (Kill Devil Hill to Dare County North Carolina USA).
Last Friday Barry and Michelle from Snap Wollongong joined me to visit to Ryan at Wollongong Airport to wish him well from all the team at Snap. Ryan said "I really appreciated to get that first bit of support from a company when I had nothing. It is really hard, and Snap did that over and above everything I ever expected, so I really do thank you. Snap should be really proud."
The website development team at Snap have been excited to work with Ryan's principal partner Telstra to install a special tracker onto the website Snap built (teenworldflight.com). This tracker connects to a satellite phone supplied by Telstra and will pinpoint his journey so that website visitors are able to see where he is at any point in time. The website also has direct links to all his social media feeds:
Twitter (@teenworldflight #DestinationWollongong #TeenWorldFlight),
Instagram (TeenWorldFlight)
Facebook (facebook.com/teenworldflight)
Safe journey Ryan, and we look forward to seeing you back in Wollongong on September 7!