Cross-device marketing - how to make customers happy every time they connect online
Published: 8 June 2017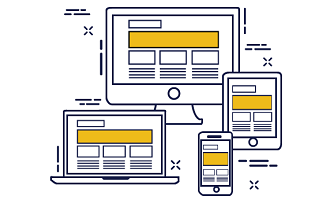 A question for you. What are you reading this article on? A desktop computer? A laptop? A mobile phone? A tablet?
If we looked at Australian internet user research figures, we could take a guess and say there's a slightly greater chance that you're on a desktop than a phone. Possibly on a laptop. But quite unlikely on a tablet.
Why is this important? Because the devices people use to access web content is starting to have a big impact on customer relationships, sales and ROI.
It's about more than just the device we use
Today, we can't afford to just assume how people access our websites, emails, social pages and more. Many existing and potential customers use a variety of devices to research and buy online.
This means that question we asked can vary greatly depending on:
where you are right now - at home, work or out and about
where you are at home - working or studying, on the couch, in bed, etc
the time you see this article
your age
your location - city or rural
what you're trying to do online
Knowing your audience online buying decisions
Easy access to the web, anywhere and anytime, is changing the way people shop online.
Recent research conducted by Criteo revealed that almost 41% of all online transactions in Australia take place across two devices.
Knowing the devices your audience use, and their path to purchase, can help you tailor their experience.
For example, a woman on the way to work might:
check her email on her smartphone and find an offer from a favourite store
do research over lunch at her desk PC to narrow down her choices
on her way home, use her smartphone to confirm her choice and add it to the shopping cart
once she is back home, use her laptop in the living room to complete the transaction.
What can you do to help her?
When you can map this customer's journey, and better understand her buying habits, you can:
make it easy for her to pick up from where she left off
offer customised promotional deals or offers
hold an item for her to be collected from her favourite location.
Today, customers look for instant personal, meaningful brand experiences. For many people, especially the growing millennial segment, cross-device marketing can play a big part in achieving this.
Cross-device means a mobile and computer-friendly strategy
Going mobile is smart
The Criteo research revealed that mobile was the preferred device to do an online transaction:
45% of all online purchases are completed on a mobile.
27% of all cross-device transactions start with a smartphone
As business owners, knowing this information helps us fine-tune our campaigns, ensure our sites are mobile friendly all the way to completing a purchase.
Or, we could create an app to cater to these buyers. Around the world now:
Mobile apps purchases account for 55% of mobile transactions
People buy bigger on desktops
Cross-device monitoring also reveals the degree of influence of time of the day and other factors can have on the purchase decision.
On average:
Desktop purchases are high during work hours and mobile devices are preferred during evenings and weekends.
People prefer to transact orders of $100 and above on desktops.
So, without a cross-device strategy, you risk:
annoying customers that you don't recognise when they come back on different devices
wasting ad dollars by targeting wrong people
sending inappropriate messages instead of up-selling or cross-selling
missing vital insights that can help in creating campaign strategies and budgets
lacking critical information on the customer's journey and brand experience.
How do you develop a cross-device strategy?
Whatever the size of your business, now is the perfect time to start focusing on ways to effectively connect with and promote to your audience based on:
the device they are using at the time
their journey from browser to buyer.
You can make this happen by:
Learning from new and existing customers - interviews, surveys
Looking closely at your Google Analytics reports
Mapping out common customer journeys
Developing marketing strategies around these journeys
Creating mobile-friendly websites and emails
And if you need some expert help creating a great customer experience on every device, talk to your local Snap Centre today.