Creating irresistible business brochures - 7 questions you need to answer
Published: 26 September 2018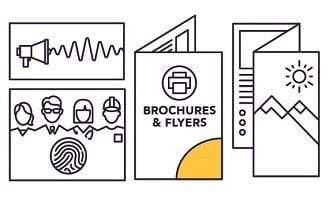 Whether you're in the business of selling products or services, a well-designed, targeted and printed brochure can be your best friend. Or, at least, one of your best sales tools.
They're also far more cost-effective than any prima donna office sales star.
Plus, you can be sure that they're spreading the good word about your business 24 hours a day, even on weekends and public holidays.
But like all good marketing strategies, brochures aren't born with natural business building skills.
These powers can only be instilled by the parents the person, or people, responsible for the brochure design, marketing and copywriting.
To help you give your brochure the best chance in life as an eye-catching, informative and persuasive marketing tool.
Who is the brochure for?
Depending on the audience and subject matter, the design, content and writing style can vary dramatically. For example:
Young or mature
Male or female
Fun or serious/conservative
Knowledgeable of subject or new to it
The clearer your picture of who you are creating your brochure for, and what their problems and needs are, the more likely they will pick it up, read it and act.
Where will it be seen and used?
In other words, how will your brochure be used?
Is it for a one-time event, or to be used over an extended period?
Will you be handing it out, mailing it, putting on a counter or shelf?
Will people be handling it in environments where it could be damaged?
Once again, this has an influence on design, copy and print.
For example, you may need larger fonts and images on the front to capture attention as people walk by at a trade show. If your audience is mechanics or chefs, do you need to use a varnish stock?
What problem are you addressing?
Customers do business because they have a problem that needs solving.
It might be a life changing problem e.g health or finance related. Or it might be something less dramatic e.g. need a holiday or to find a gift for a wedding.
Either way, they have a problem that needs solving.
To capture your audience's attention your brochure needs to clearly address their problem. It might be in the headline or the body copy. It may even be in an image.
You shouldn't guess what that problem is. You need to ask. This is why it's so important to understand your audience before you do anything else.
What solution are you offering?
Tied to the question above, you need to explain in your brochure that you can provide the answer they are looking for. The solution their problem.
There are a number of ways you can do this. The key is to give them audience a clear picture of what their life will be like by choosing your business. For example:
highlight the benefits of your product or service
educate readers on how to get the best out of your offer.
detail features that make your product or service stand out.
compare your offer to others in the market
include stories or testimonials from happy customers.
How will it look?
Researching and thinking carefully about your answers to the questions above will go a long way to providing the right answer to this one.
You'll have the confidence and knowledge to:
capture attention with your cover
build curiosity with your message
set the tone with colour bright and exciting, cool and relaxed, etc
choose fonts that match the mood
use appealing, interesting and relevant visuals (e.g. include a person like them, a situation they would like to be in, something fun, etc)
You can also make decisions around:
Paper stock
The paper you choose can build curiosity and swaying opinions when we see it, feel it and smell it. That's why stock should be one of the most considered decisions in your whole brochure design and production process.
Print finishes
Is a plain and simple brochure the most effective for your goal? Or would something different help you cut through the clutter and lift the brand value of your offer?
Unique, eye-catching brochure finishes are known to stimulate the brain through the power of curiosity. They almost don't seem possible the first-time people lay eyes on them.
For example, text, logos or images:
floating on the paper surface like honey drops
shimmering under reflections off lights
glittering in luxurious gold or silver, elevated from the surface.
Depending on your product, where your brochure will be seen and your objective, the right print finish could make a huge difference.
Size and shape
Unusual shapes can quickly surprise and build audience curiosity on sight and make for an unforgettable first impact.
With the right folds or die cut your brochure can be a square, circle, triangle, or almost any shape you desire.
What action do we want them to take?
Most people will follow your instructions if you only ask them to. Some of the largest advertising failures around happened because someone just didn't ask for an action.
So be sure to tell them exactly what you want them to do:
come in and visit your shop
book by this date for the discount
call or email to get further information, a sample or book an appointment.
Are there any mistakes?
Always edit and proofread your work before you release it into the wild.
Poor grammar and spelling mistakes don't just look bad in print, they can disintegrate the trust you've built through your design and messages.
Recent UK consumer research on website text found that:
74% pay attention to the correctness of the prose
59% said they would avoid doing business if there were obvious errors.
58% were annoyed by copy errors.
After all the hard work creating a brochure that your audience love, it would be devastating to loss a customer over a typo.
Some easy ways to check your grammar and spelling include:
reading the text backwards
asking someone else to read it
saying it out loud
leaving it and coming back to check later, or the next day
using software, such as Grammarly.
Business brochures can be one of the best performing marketing tools available for any business, large or small.
Plus, the range of affordable design and print finish options available today is astounding.
Make these seven questions part of your brochure creation process to help you produce an irresistible marketing, branding or sales star for your business.
And if you need professional brochure design, marketing and print help, contact the experts at your local Snap Centre today.
Author:
Snap Franchising Ltd