Creating and utilising a valuable leads database for your business
Published: 17 August 2015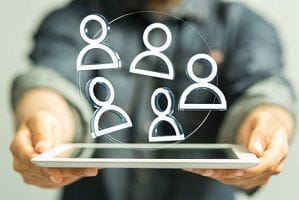 When building your business, creating a database of potential clients is essential.
To help you get started, we've put together some handy advice for generating and capturing lead information both online and off.
Generating leads online
To successfully generate leads, you can't just sit back and hope clients will fall into your lap. Be proactive, keep notes on every interaction you have with your clients and make use of the resources already at your disposal.

How many followers do you have on social media? These are people who've proven they have an interest in your brand and are ideal candidates for your database. Likewise, anyone who has signed up for an e-newsletter subscription should be considered a valuable lead.

Your website also has the potential to be your biggest ally when it comes to capturing leads. For example, by introducing a contact form with an incentive such as a free estimate, discount coupon or digital download, you could start gathering in-depth data about your potential clients.

Another great way to increase traffic to your site and find out more about your audience is to promote gated content through your social media channels. Offer a link to a relevant article or resource that will, when clicked, take the reader to a landing page that asks them to fill in a few details before providing the content.
Generating local and physical leads
Don't be fooled into thinking you can find all the leads you need online there are plenty of real-world resources well worth exploring. One of the quickest ways to boost your local list is to consider partnering with a like-minded business. As long as you ensure your services are truly complementary, this can be a great way to boost numbers.

If you already have a mailing list, add the members to your database and see if you can increase sign-ups by offering incentives for joining. Coupons are another good way to persuade clients to pass on their details, and don't forget the value of business cards to collect more, consider a simple 'leave your business card for a chance to win' competition in-store.
How to utilise your leads
Generating leads is one thing, but you also need to know how to use them. While collecting as much information about your potential clients as possible, you should also be grading how strong each lead is, filtering them into the most appropriate sections of your database so you know what kind of action to take. You also need to think about the information you should ask for. Initially, some leads will be no more than an email address.

Start new, 'soft' leads with personalised direct mailing and general special offers avoid the hard sell if you don't want to scare them off. Once you've established contact, you can start to build more information about your client, such as age, preferences and geographic locations. You can then send offers targeted to their demographics.

The more you're able to find out (through sales and incentive-based information gathering), the stronger your leads will become and the better you'll be able to use them to guide your strategic thinking. By identifying trends within your database and analysing client behaviour, you can create campaigns that are more likely to connect.

Looking to whip your marketing into shape? Contact your local Snap Centre today.