Creating a cohesive marketing plan with a client
Published: 8 December 2014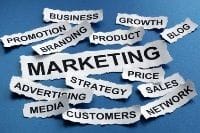 Help your clients enhance their brand awareness with our advice for creating cohesive marketing plans.
All too often, businesses launch marketing campaigns without putting in the preparation required or setting goals. Give your clients some valuable advice that will help them choose the ideal marketing strategy to fit with their products and services.
The four Ps of marketing
There are four key elements your client needs to keep in mind when devising a marketing plan: product, price, promotion and place.
Product: Before your client can sell a product, they need to do a SWOT analysis. This will help them develop a clear understanding of what it is, what it can offer customers, and what makes it unique compared to the competition.
Price: The price will be based on supply and demand. It will also determine profit margins and have a huge impact on the budget for your clients marketing plan.
Promotion: Encompassing everything from printed material, to search engine marketing, promotions should be tied to consumer demographics.
Place: Businesses need to think about where customers will be shopping (often online, these days) and put the right product in the right place at the right time.
Tools and templates for building plans
To create a successful marketing plan with your client, it's essential to first establish the goals and affects they want to achieve whether it's driving sales or boosting brand awareness.
There are some great free tools and planning templates that can help guide clients through the planning process. Google Docs has dozens to choose from and Microsoft's Marketing Plan is also a convenient starting point.
Why create a holistic marketing strategy?
To create a strong brand with a cohesive reputation, businesses should always keep the four Ps in mind and strive to follow a holistic marketing plan. Branching out in too many directions or putting out a message that is off-brand can weaken a strategy. An overarching marketing plan, on the other hand, can reinforce brand exposure and enhance business reputation.
Contact your local Snap Centre to discover more ways to help your clients develop marketing plans and techniques.