Cooking up coverage at Snap Wollongong
Published: 12 April 2013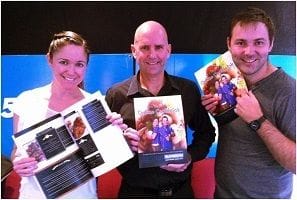 Connect with the local community
Local community involvement is an important philosophy of the Snap network, and savvy Franchise Owners use their local community contacts to build their relationships in their territory.
Snap Wollongong heard their local radio station WAVEFM was creating an online community cookbook, featuring recipes from morning hosts Jade and Travis, listeners and even a few local celebrities.
Local businesses were involved as well, with pubs contributing recipes, and a local nightclub offering to hold a launch function, cooking all the meals from the book.
Seeing an opportunity to generate PR for their Centre, Snap Wollongong volunteered to produce hardcopies of the recipe book for WAVEFM free of charge. One hundred 56 page A4 bound books were presented by Centre Manager James live on the breakfast show. The books were used as an auction item on the launch night, presented to each contributor, and also used as station giveaways.
What was the benefit to Snap Wollongong?
Franchise Owner Barry Christofides explains "We have been mentioned around a dozen times a day in the week and James has been on air three times. The promotion has worked so well we have had clients ringing us asking about orders for some printing, and apologising to us saying they know we are busy doing that WAVE FM cookbook."
A relatively small investment in printing costs lead to valuable media coverage for Snap Wollongong, and helped to further build on their terrific relationship with the local community.