Colour and business identity
Published: 14 February 2013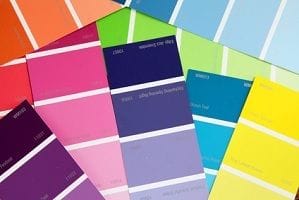 From McDonald's golden arches to classic Coca-Cola red, colour plays a huge role in defining a brand.
So what do your brand colours say about your business?
Not just for looks
Colour dramatically impacts our mood, behaviour and even memory recall. As much as possible, business colours should be industry appropriate, tie back to the brand promise and set your business apart from the competition.
Less is more
When making a colour decision, try to choose no more than two main colours. This will keep your messages sharp, concise and is less likely to confuse clients. You'll also find that one or two colours are easier to integrate consistently across various marketing materials.
Make it accessible
Keep in mind that people see colour differently, so try to make your colour palette easy on the eye and widely accessible. A proportion of the population is red/green and blue/violet colour blind, so try steer clear of these combinations where possible.
Stay with it
Once you've found your colour palette, stick with it. These colours are now as essential to your brand as your business name. Ensure they appear on all promotional materials, from the logo and website to packaging and stationery.
The psychology of colour
While colour will always mean different things to different people and cultures, there are some common, universal colour associations that are worth noting:
Blue: Trustworthy, secure and calm. Particularly popular with financial institutions.
Red: Energetic, aggressive and strong.
Yellow: Optimistic, warm and creative.
Green: Healthy, harmonious and serene. Often associated with money or prestige.
Purple: Royal, sophisticated and mysterious.
Orange: Fun, gregarious and childlike. Tends to be gender neutral.
Pink: Youthful, romantic and girly.
Black: Serious, classic, powerful. Can create drama, but also risks looking ominous.
White: Pure, clean and simple. Very popular with health products.
Contact your local Snap Centre to discover ways to integrate memorable and meaningful colours into your brand identity.