Clever design ideas
Published: 9 July 2014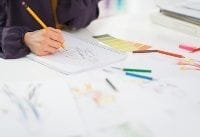 Creative block? We've all been there.
These unique, innovative and precise designs are the perfect remedy, serving up that much-needed spoonful of inspiration.
The CV
Rather than listing all the reasons she would make an amazing intern (yes, intern), Leah, an advertising wannabe, decided to show the agencies why she's the girl for the job with a complete mini Lego model of herself in an interview suit.
Lesson: This clever CV creation is the perfect example of design serving a purpose. Had this been a CV for an administration role, it likely wouldn't have been as successful. But in a role where creativity is paramount, it was perfectly executed.
The business card
Proving that engagement is not just a term to be bandied around in the online world, this business card for Yoga One asks the receiver to engage with it in an unusual way. The result is a seriously memorable card. Even better, it's an inexpensive design that's simple enough to be printed on a large scale.
Lesson: Consider what you're creating does it need a large print run? If so, look at how you can execute your idea with basic materials to cut costs.
The 'About' page
Is there anything duller than an 'About' page? The answer is usually no, but Kentucky-based design and branding firm Cornett proved otherwise with their clever take on the 'About' page. The agency asked each employee to come to work with items they couldn't live without. One photography session later and their unique 'About' page was complete.
Lesson: Even the most straightforward and seemingly uncreative elements of your business can be made unique and clever with a little lateral thinking.
Got a great design idea? Contact your local Snap Centre to make it a reality.