Can you keep a secret?
Published: 30 August 2013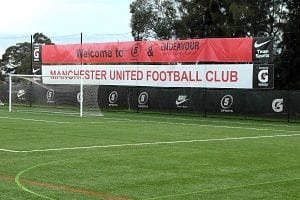 We know the team at Snap Rockdale can.
When one of the world's biggest football teams is making a surprise visit to the local sports high school the challenge is how to promote the event without leaking the details. Luckily the team at Snap Rockdale know how to keep a secret, as well as how to turn around a job in record time (like all of the Centres in our network).
Manchester United Football Club was making a special visit to Endeavour Sports High School as a guest of 5sports, a local private sports coaching business. 42 kids from the Manchester United Supporters Club NSW, Endeavour Sports High School Football Program, and 5sports Football Academy took part in the event.
5sports needed a banner for the event with only three working days to complete the job, they called on the expertise of Snap Rockdale to print the giant welcome banner. A quick trip up and back to Brisbane for finishing was completed before the banner was delivered ahead of deadline.
Manchester United Soccer Schools Head Coach declared "This is the best venue we have ever been to !"