Can writing a blog increase productivity?
Published: 7 May 2015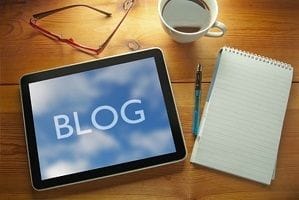 There's more to blogging than simply amplifying a marketing campaign or boosting web traffic. It can also be an excellent exercise in personal growth.
Writing a blog to chronicle your day-to-day professional experiences, personal development, ambitions and achievements can help keep you accountable and motivated to work towards improving every day so why not give it a try?
Get blogging
Starting a blog is incredibly easy, especially if you use a free platform such as WordPress or Google Blogger. You'll be able to set up and customise your blog in a matter of minutes, leaving you free to concentrate on the content.

If you want to write a blog that will aid your personal development, you need to use it as a place to hold yourself accountable. Outline your goals and ambitions from the very start and commit to a realistic publishing schedule.
Get your voice heard
Sharing your work with other people is one of the best ways to keep your motivation levels high. Use social media sites as an easy way to connect and make sure you tailor your links to attract clicks. For example, if you're posting on Facebook or Twitter, be sure to include an image in your snippet that will garner more engagement.

Networks such as LinkedIn, Ryze and Spiceworks (a community for IT professionals) are perfect for sharing blogs chronicling your personal development and working life.
Get your employees involved
Help employees enjoy all the benefits of blogging by encouraging them to start posting during working hours or scheduling a roster for them to submit content. The small amount of time spent writing and uploading is a worthwhile investment if it improves employee motivation and productivity.

The more employees you have blogging, the more likely it is that everyone will begin to support and inspire each other. If you want to formalise the initiative, you could allow enthusiastic bloggers to tie their success into self-assessments and personal reviews.

Contact Snap for help designing and integrating employee blogs with your website and other online assets.