Businesses Selling Personalised Products
Published: 30 August 2017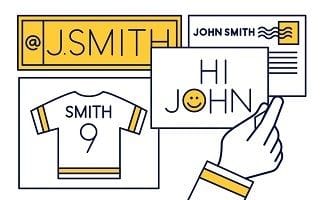 Why it pays to personalise your products - and 3 success stories
One market that has grown massively over the past decade is the personalised products industry.

From marketing material to promotional products, clothing to handbags, more and more businesses are seeing how audience recognition can:
boost sales and returns on investment
create greater customer loyalty
develop closer connections with customers
provide free publicity
Growing need for a customised product
The power of a personal touch is getting stronger. A Bain survey found that out of more than 1,000 online shoppers:
only 10% had tried customisation options
25% to 30% were interested in doing so
on average, those interested were also willing to pay 20% more for unique customised products
The big opportunity in personalised products
Product customisation has helped brands boost their sales on their own websites or gain share on a retailer's site.

Let's take a look at a few companies who have raked millions by discovering the value of letting their customers create their own unique products through their businesses.
The Daily Edited (TDE)
Alyce Tran, a Sydney based lawyer, was looking for a lap-top bag monogrammed with her initials. She searched for a few high-end brands, but they were too expensive. Together with her friend, Tania Liu, also a lawyer, Alyce decided to ditch her day job and turn their part-time fashion blog into a hugely successful personalised leather boutique in 2014.

With an annual turnover of more than $15 million, TDE has concession stores at David Jones in Sydney, Adelaide, Brisbane and Melbourne. TDE's product range includes monogrammed leather bags, wallets, pouches, stationery and phone covers.
Shoes of Prey
Founded in 2009 in Australia and now based in Los Angeles, Shoes of Prey builds and delivers custom-made women's footwear in just about any size, colour and style you could think of.

The Shoes of Prey 3D design interface on their e-commerce site lets customers choose from numerous design options, colours, textures, and heel heights.

Founded by Jodie Fox, Michael Fox and Mike Knapp, Shoes of Prey has let customers design more than six million shoes. The brand is also available at Nordstrom stores.
Personalised Printing
The advancements in digital technology and printing techniques have made it possible to build that elusive one-to-one relationship with each customer through personalised branded cards, gifts, books, calendars, brochures, promotional material and more.

We've tested a lot of generic vs personalised campaigns for clients and consistently personalised versions:
attract more attention, and hold it for longer
increase conversions
build stronger relationships with potential and existing customers
boost repeat purchases
deliver greater profits through better ROI
The success of personalised comes down to how well you know your customers - and are able to provide something unique that benefits them and makes them feel appreciated. Special. Unique.

If you'd like to know more about how personalised printing works, and the many ways you can make it part of your marketing and service, talk to your local Snap experts today.