Business cards worth holding on to
Published: 15 February 2017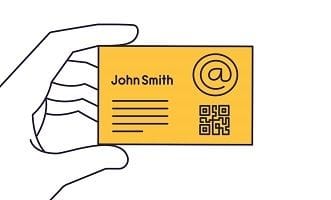 What Steve Martin can teach us about the power of business cards
Nothing beats face-to-face introductions. So when we exchange business cards with someone in person, something else happens in the background.
As long as you're not just going through the motions, swapping business cards says, "It was great to meet you, we really should do this again" - in a far more memorable, personal and meaningful way than (another) email or social post ever can.
Comedian Steve Martin has a business card that sums up the experience perfectly. It says:
"This certifies that you have had a personal encounter with me and that you found me warm, polite, intelligent and funny. Steve Martin"
While not everyone could get away with a tongue in cheek line like that, it reminds us of how swapping business cards can serve as a great ice-breaker. Especially in today's impersonal digital age of networking and communication.
Business cards reflect your professional identity
Whether you are meeting a prospective client for the first time or on the move at a networking event or conference, the business card you hand out leaves an impression about you and your brand.
Here are some tips for designing a business card that looks good smart, acts professionally and says all the right things.
Don't over complicate your card
Keep it to standard business card size (3.5" x 2") to fit in wallets and business card holders
Make it easy to read. Select a 10-14 pt text and never go smaller than 8 pt. Use a clean and classic serif or sans serif font.
Organise the information and logo/branding so that it's easy to scan and visually appealing.
Allow some white (or background colour) space to eyes can focus on what's most important.
Convey the right information, and the most important information
Think about the information you need, and how you include it. Things like your name, company, job title, e-mail, phone, website and the most relevant social media profiles (LinkedIn, Facebook) are all valuable.
You may want to include a couple of important services on the back, but not all of them, or every mailing address if your company has multiple locations.
If you do have additional information that you think could be important, include a landing page web address.
Alternatively, add a QR code to you card. All the essential details can be embedded in a computer-generated barcode, containing text information that can be easily opened.
Be brand consistent
Use your business colour scheme and logo to further promote your business and avoid confusing people. Your business card can also be a canvas for your photo. Just be careful not to look too salesy.
Networking is all about remembering the person, and your picture on your business card will certainly jog a recipient's memory.
Go for a sturdy stock
You don't want a card that tears or bends too easily. Especially as you're pulling it out to hand out or someone is trying to get your card into a file. Using thicker paper can help avoid that. Heavier stock also has a more professional and upmarket feel about it.
A well designed business card can open up a path to new business, new jobs, new partnerships and greater success. So 'Be Like Steve' and put some thought into its design and content.
You may even want to enlist the help of a professional business card designer to help you reap the full potential of these pocket-sized overachievers.